The Middle East's cloud infrastructure services market is expected to grow from $2.7bn in 2017 to $8.8bn by 2022. This growth is being driven in part by cloud-dependent Internet of Things (IoT) technologies, as well as an increasing number of businesses in the MENA region moving towards digital-first business models. Meanwhile the popularity of Software as a Service (SaaS) products such as Office365 has meant that businesses in the Middle East are moving their email servers into cloud environments, whilst web conferencing apps such as Zoom and Skype for Business have taken boardrooms to the cloud and helped to connect businesses around the globe.
This rapid deployment of cloud technology, paired with some of the highest levels of Internet penetration in the world and the ambitious visions of several governments in the region to become global tech hubs, will place huge strain on the Middle East's existing digital infrastructure. It is vital that technologies such as data centers and cabling systems are developed, deployed and updated to keep pace with the huge swathes of data that will be produced as MENA's economy becomes increasingly digital and automated.
A brave new world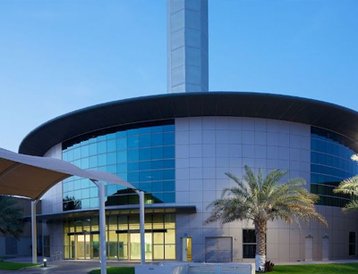 Projects such as the UAE's Vision 2021 and Saudi Arabia's Vision 2030 are focused on economic diversification; aiming to decrease reliance on oil and instead develop a new knowledge-based economy categorized by close links between science, technology and innovation for economic growth.
Governments in the region have been providing incentives for tech start-ups and to encourage established firms to invest in new digital business streams. Dubai's Silicon Oasis is one such example. A landmark project which is wholly state owned, it is a living and working integrated community that incentivises modern technology-based industries with state-of-the-art infrastructure and a free trade zone – meaning new technologies can be designed, stored, manufactured and exported away from stringent customs regulations and duties.
Bahrain is also looking to boost its tech credentials through government initiatives. It recently launched Fintech Bay, the island nation's first dedicated hub for financial technology and its first regulatory sandbox where business can get licences tailored specifically for start-ups. Bankruptcy laws have also been revised to allow room for entrepreneurial risk and failure.
While these incentives and technological advancements symbolize a giant leap forward for MENA's digital economy, as it continues to evolve there needs to be a rapid deployment of digital infrastructure that looks to not only tackle the pressing issues of today, but also the demands of the future.
New horizons
In July this year, Equinix announced a new joint-venture International Business Exchange (IBX) data center with Omantel in Barka, Oman. Sitting at an intersection between Asia, Africa and Europe, the new IBX marks Equinix's third in the Middle East, alongside existing IBXs in Dubai and Abu Dhabi. It will create a regional interconnection hub with ultra-low latency between global business markets.
The decision to partner with Omantel was an obvious choice. As a global telecommunications service with connectivity to more than 120 cities globally and investments in 20 submarine cable systems, the partnership gives Equinix access to several new markets. Equinix will also be able to leverage six new diverse landing stations in Oman and one in France as part of the partnership. And because Omantel is an investor in the AAE-1 consortium – one of the largest, newest high-capacity connections between Asia, Africa and Europe – the new joint venture will offer a redundant and unique latency of 160ms between Frankfurt and Singapore, two of the world's main financial hubs.
More from the Middle East
The Oman IBX will also benefit from connectivity to strategic cable landing stations (CLS) and submarine cable systems that terminate directly inside the facility, providing customers with significant cost savings and an increase in performance and security. This will allow businesses of all shapes and sizes increased scalability and security, whilst also ensuring that data can be stored, accessed and processed in the cloud in real time. Financial services companies will be able to leverage the data center for ultra-low latency between financial markets in the Middle East, Africa, Asia and Europe – something that is business critical when latency issues of milliseconds can have multi-million dollar implications
A digital future
Digital disruption is impacting the Middle East at a remarkable pace, and it is only set to increase as companies flock to the region to take advantage of its rapidly diversifying economy and strategic location. It is vital that companies invest in developing the digital infrastructure of the Middle East, otherwise the pace of innovation will quickly outpace its existing capabilities and the regions promising growth as a digital hub will be stopped in its prime.
Our Global Interconnection Index – published for the first time in 2017 and due to be repeated in the coming months – forecasts direct interconnection between businesses will outpace the public internet by 2020.
A large part of this growth is attributed to the rapid economic development of the Middle East and Africa.