On a cold Monday morning in mid-December, millions of Google users in the US awoke to error messages.
A massive global network outage had taken many of the tech giant's most popular services offline. Google Calendar, Gmail, Google Workspace, Hangouts, and Google Classroom all crashed, leaving remote students and workers scrambling. Appliances integrated with Google Assistant stopped working. Third-party apps like Pokémon Go that use Google's back-end services also experienced issues.
The outage reiterated just how foundational the network has become to our daily lives. When a server fails, it's like having a sore muscle — uncomfortable, but still functional. When the network fails, however, it's like the entire nervous system shuts down.
The day the Internet stood still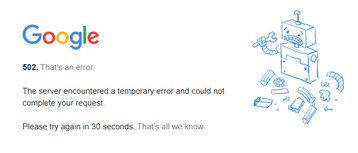 As many of us continue to work remotely, these outages have become more frequent and more acute. Even businesses like drive-thru restaurants are affected by network outages that push call centers — and the people actually taking your order from 500 miles away - offline. In 2021, networking trends will coalesce around strategies for organizations to remain agile, secure and, most importantly, online.
Business leaders will take a software-first approach to new deployments — if they haven't already done so. After the electricity bill, the dominant operating cost of a data center is its management, i.e., the people and software solutions that make sense of the data. Organizations that pick their hardware first are often limited in their software choices, which can translate to a host of costly operational repercussions. Going forward, organizations instead will focus on which software solutions make the most sense for their needs, then select their hardware and on- and/or off-premises data centers accordingly.
Private clouds will experience enormous growth. As the public cloud hype cycle approaches its end, companies are tallying up the associated costs and security risks and reassessing their options. For a time, many organizations believed the best cloud computing model was via public providers like AWS, Microsoft Azure and Google Cloud. While the public cloud can help organizations avoid the costs and complexities of managing their own IT infrastructure, the private cloud will become more attractive in the wake of public cloud security concerns, a tougher regulatory environment and dramatically lower private cloud costs.
Remote work will drive greater edge computing adoption. As the dispersed workforce pushes users further away from centralized data centers, more organizations will seek edge computing solutions that better facilitate decentralized operations. In 2018, Gartner reported that only about 10 percent of enterprise-generated data was created or processed outside a centralized data center or cloud. But the research and advisory firm predicts that figure will reach 25 percent by 2025 — and that percentage could be even higher after the Covid-19 pandemic accelerated enterprise digital transformation. By pushing data activities away from centralized networks and closer to end users, organizations can improve security, speed, connectivity and scalability across various home networks.
Organizations will become more strategic with multiple cloud computing environments. While sticking to a single cloud environment might sound like the simplest option, it's not the most strategic. Consider buying a home. One of your primary determinants is the number of bedrooms needed for your family. But when in-laws and extended family visit, you'll obviously need more space. Still, you wouldn't buy a seven bedroom home just for those visits. Instead, you'd get a home with a few bedrooms for your family, then rent an Airbnb or hotel as needed. The same concept applies to cloud computing. Organizations will look to hybrid cloud models that provide a mix of in-house and public computing to enable stricter security and control for some data — and scalability as needed. Likewise, companies will turn to multiple public clouds depending on use case. Solutions will differ across organizations as business leaders approach every cloud environment decision more strategically depending on their unique needs.
Data centers will become more self-managed. Businesses will leverage data center automation and intent-based networking (IBN) to automate the design, build, deployment and operation of their networks. This will eliminate much of the day-to-day firefighting IT teams typically face, so they can focus on more strategic efforts instead. Similar to how Uber and Lyft have automated the entire rideshare process — instead of relying on humans to book the ride, give the driver directions to the rider, map out the route to the destination, request the payment and calculate ratings — enterprises will use IBN to free up human capital and continuously address operational challenges as they arise.
As we look at the year ahead, I encourage organizations to take a moment to reflect on how far we've come in such a short span of time. While enterprises certainly have work to do when it comes to strengthening their networks and taking a more strategic approach to cloud computing, it's important to recognize all we accomplished in the last few decades — and throughout this unprecedented past year. And there's still so much more we can achieve.