The gaming industry continues to boom, with predictions that the number of people gaming will rise to over 2.7 billion by 2021. This rise has become even more prominent since the lockdown began in March. A recent study from Verizon showed a 115 percent increase so far in gaming usage in the US alone compared to a typical day before Covid-19.
For some time now, it has been clear that the Cloud is where the future of the industry resides. The potential to allow consumers to stream games directly to any device, without the need for powerful hardware at the consumer end is tantalizing. Every big player in the space, and some new entries, are competing for headway in a service offering which promises seamless gaming without necessarily needing specialized hardware. Some even say 2020 is set to be the year of 8k cloud gaming, although as the big players such as PS5 look to emulate classic games only in the cloud it could be nostalgia driving usage upwards.
However, over the past decade companies have tried and failed to make it work. For example, Google Stadia came online as the first AAA entry into the space, although it had a somewhat rocky start due to a mixture of communication, UI and latency issues. Most recently, Fortnite fans were left disappointed as a virtual queue for its event 'The Device' reached capacity before the event had even begun. Negative experiences like these can lead to less loyal gamers, and hit the business's bottom line.
It's clear that the real winner in this market will be the service provider that can offer the fastest, and most reliable, connectivity.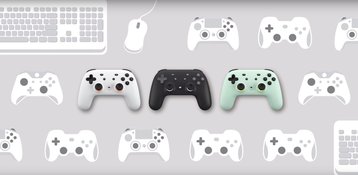 Don't lose out with poor network performance
As more major gaming services shift to a streaming model, network performance will be critical to keeping customers happy. The need to keep up with demands from the gaming industry is a significant opportunity for data centers, particularly providers offering interconnection and edge computing services.
The high network latency Stadia saw, more commonly referred to as 'lag', is still a bane in many a gaming experience today. In order to avoid this, you need low latency, also known as high connection speed. Working hard on the backend to manage this is the data center industry. However, the distance between end users and data centers causing these latency issues can be tricky to manage without edge computing. Building new sites is a costly endeavour, so often the challenge is working with older data center facilities which were built before the time of more modern, high density equipment, but still needing to keep up with modern demand.
To fully grasp the opportunity that comes with the increase in online gamers, data center operators must consider how to improve their capacity using existing infrastructure.
In it to win it
At present, without accurate data on levels of power consumption, operators frequent the use of "guesstimating" capacity. This almost always results in either gross over or under-utilization, a dangerous game to play when the competitive stakes are high. Future Facilities recently commissioned a study which found that nearly a third (29 percent) of data center managers are compromising on capacity planning decision making all of the time, while 45 percent are compromising at least some of the time.
So how can operators make faster, and better, decision making on cooling and power to turn this wasted capacity into higher reliability and performance? Well this is where DC operators can take inspiration from the gamers themselves. When stuck on a tough level, gamers will be very familiar with embracing the trial and error 'grind'. This is where they will need to play the same level over and over again, trying new tactics to find the route to victory. Having the freedom to make mistakes and try again allows gamers to find interesting, innovative ways to win. The introduction of the digital twin to the data center industry allows the industry to do this as well.
Operators can trial data center setups virtually to find the optimal balance to save energy and cost whilst maximizing performance, before it's implemented in the physical data center itself. This process saves money both in designing and operating a data center, helping operators to reduce the chances of downtime and manage load variation; ultimately keeping gamers loyal and businesses running at a profit.
As demand for gaming continues to grow, thanks to Cloud capabilities and a hotbed of competing tech giants vying for consumer attention, data centers should look to get ahead of their competitors now. Finding the perfect balance between capacity, resilience and efficiency is how to win the game.