The Internet was built to be resilient at its core. A decentralized system, it is meant to have no single owner that can control it or shut it off.
But the cloud risks changing that.
This article was originally published in the December 2020 issue of the DCD Magazine, but is being republished today in light of the Fastly outage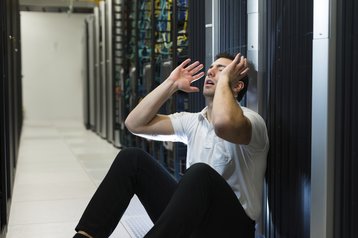 It's hard to grasp the rapid rise of the hyperscale giants simply from their overflowing quarterly reports, laid out dryly as numbers without context. It's when they suffer a major outage that their breathtaking reach is finally in view.
The past few months has seen several such incidents from the major cloud providers, and the impact of even brief disruptions has been felt far and wide. When AWS East-1 started playing up in November, Flickr, Adobe Spark, Anchor, Roku, and tons more all stopped working - as did the company's own status page. When Google had issues in December, suddenly Gmail, YouTube, and Google Drive were unavailable, among other services like Google Classroom. Equally, recent CloudFlare outages have shown just how fragile the Edge cloud market is with just a few CDN providers dominating the field.
Efforts to map the scope of cloud ownership often fail because they don't take into account how many mission critical services use the cloud for just a small, but vital, part of their operations. A cursory glance at a company's IT footprint can miss how even a small reliance on a cloud provider puts their platform at risk.
Those outages weren't caused by a hardware fault at a data center, but issues with software and APIs provided by hyperscalers. Those are finding their way into more applications, ThousandEyes CEO Mohit Lad told me over a coffee before the lockdowns began. "It's being made easier for you to develop something because instead of building this whole sequence of actions, it's now a Twilio API or someone else's, and you're adding more and more third parties.
"While building applications becomes easier, the complexity of the application is actually increasing dramatically. And so there's a ripple effect if something goes down. Suddenly, a Google outage can take down home networks where people could not connect to their Nest cams or smart locks anymore."
This economic centralization harms the entire concept of a decentralized network, at a time when we are relying on connectivity more than ever. Cloud services are usually more reliable than on-premises or colo efforts, with more resources to fight against outages, but they also pose a greater threat should they fail.
If your colocation service goes down, your business and a handful of others will be impacted. But we live in a world where most of the largest websites, banks, intelligence agencies, and healthcare providers could soon rely on a single cloud provider and CDN.
If something goes wrong, what then?