In my view, economic sanctions do not influence the Russian commercial data center market. Nowadays, both data centers operators and customers are granted full access to foreign technologies. On the other hand economic crisis in Russia has served as a deterrent for the industry, because it influences the purchasing power of customers. Although the commercial data center industry shows satisfactory financial results, with growth of nearly 10 to 12 percent, it is obvious that 3-4 years ago the results were at least 2-2.5 times higher.
I think the Yarovaya law (374-FZ) does not have a massive impact on the market right now. This law will actually come into effect in the middle of 2018, and closer to this date, we`ll understand better its impact on commercial data centers in Russia. Today, we may talk only about different interpretations of some provisions of the law. Pundits are proposing various scenarios as to how the law will work: what provisions will be implemented, what execution timeframes and amounts of information stored will be used.
Talking about specific aspects of the Russian market, we need to admit that today it is moving towards digital transformation, similar to the global market development, from proprietary IT infrastructure to the wide usage of cloud technologies (IT Infrastructure-as-a-Service). However, we just started to move in this direction. I would like to emphasize that the Russian market, as a rule, is extremely client-oriented: service providers have to offer more flexible solutions, with deeper integration and understanding of the customer needs, thus providing specific IT architecture and services.
Demand for data centers in Moscow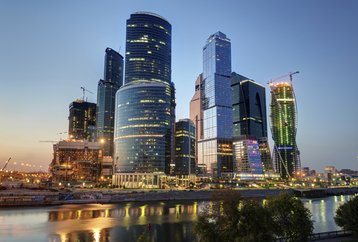 The amount of stored and processed data all over the world is constantly increasing; consequently, the demand for the computing resources and data storage systems in both commercial data centers and corporate cloud is also growing.
Fairly large number of colocation capacity have been put into operation over the past few years: for example, 7-8 thousand colocation racks have been put into service in Moscow. Nowadays, the supply outmatches the demand, with more data center projects still underway.
In next 3-4 years, there will be a fair number of empty racks, even with allowances made for the data generated by Russian businesses. As a result, today we see a customer-driven market.
The main modern data center business model involves not only the provision of data center space for the IT equipment, but also providing additional advantages for the customer: first of all the possibility of high-bandwidth access to data sources (for example, stock exchange and trading platforms) and various service providers.
Stack Group offers a wide range of bespoke solutions, from classic colocation to the most sophisticated cloud services, because now the most popular IT architecture for Russian customers is hybrid, combining collocation and cloud services.
Professional data centers operators and integrators are interested in the developing cloud solutions, for they are flexible, scalable and more durable for the business. There are fairly large numbers of experienced service providers in Russia, who are offering reliable, high quality solutions for the market. I am sure that the main driver for the development of data centers industry over the next few years will be cloud technology.
State of the Russian hardware
There are several Russian companies that for some time now have been investing in local software and hardware development, have their own customer base and successful projects.
Talking about manufacturing hardware and data storage systems in Russia, we need to remember about full transfer of technologies for industrial localization. That strategy will demand continuous investment into development of manufacturing processes, and, in my opinion, will largely depend on market demand for such hardware.
International partnerships

Stack Group, under Reseller Agreement with Equinix Inc., the global interconnection and data center company, is offering IT infrastructure hosting services in Equinix's 145 data centers located in 20 countries all over the world. This is a completely new type of service for Russia and the CIS.
Thus, Stack Group expands the geography of IT services offered to customers, practically anywhere in the world, based on a one-stop-shop approach. A number of our customers already benefit from this global opportunity.
Alexey Danilyants is CEO of Moscow-based data center operator Stack Group.