Chris George MIoR of Georgia Pacific gives us the what, why and how when it comes to roof and cover boards for data center facilities.
What are roof and cover boards, and why use them for a data centre roof build-up?
Roof and cover boards are thin substrates manufactured from various materials, traditionally installed either between the roof deck and the insulation in the case of roof boards or, more commonly, between the insulation and the roof waterproofing membrane for cover boards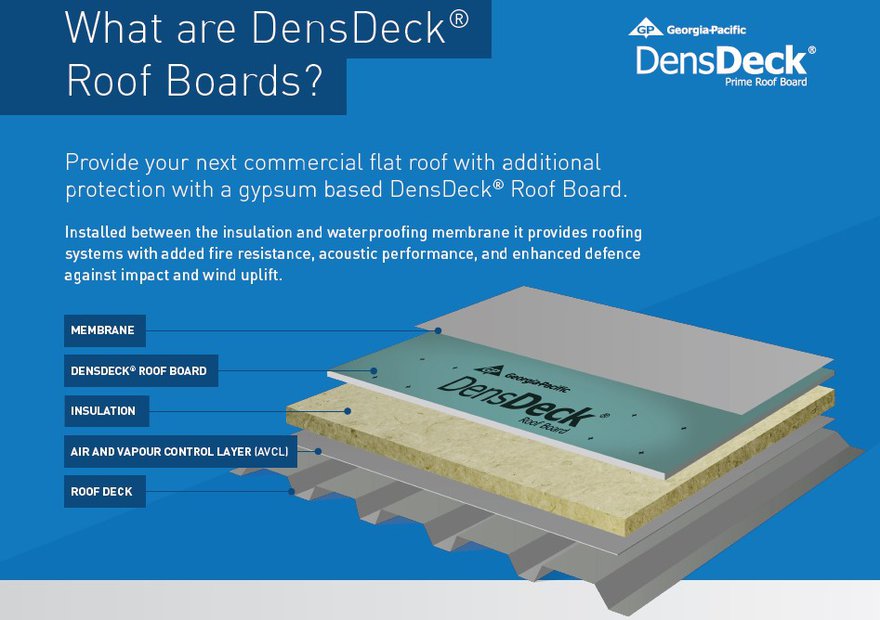 Both types of boards can help enhance the roof assembly performance and, with it, improve the building performance as a whole.
This makes the specification of roof and cover boards an attractive proposition for mission-critical buildings such as data centers, where they can help minimize downtime and speed up the construction phase.
Why use gypsum cover boards?
The images featured in this article outline the key benefits of cover boards. The chemical composition and the performance characteristics of gypsum core cover boards make them well suited for this application.
At the same time as being lightweight and easy to handle, gypsum core cover boards, with glass mat facers, are exceptionally robust. When installed between the insulation and the waterproofing layer of a flat roof build-up, cover boards offer the assembly improved resilience.
This is especially important for the insulation layer, which could otherwise be compromised by foot traffic or heavy plant and equipment compressing it.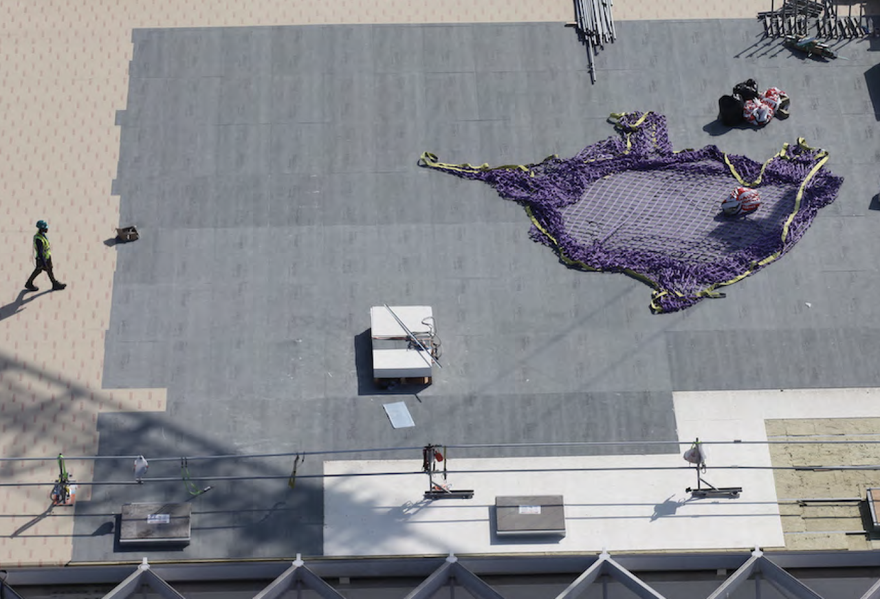 Cover boards provide a firm, flat, and stable surface to which a waterproofing membrane can be adhered or mechanically fixed. The cover board removes any irregularities that other substrates may have, resulting in an aesthetically pleasing roof surface finish.
The chemical makeup of gypsum offers further benefits, such as enhanced fire resistance and minimizing sound. Fire performance enhancing cover boards can help to restrict external and internal fire spread and acoustic cover boards are frequently used for effective sound attenuation.
Gypsum cover boards can be cut to size in situ without needing specialist tools. They are relatively light and compact, which means fewer delivery journeys, easier installation, and less pressure on on-site resources.
What are the advantages of fibreglass mat face gypsum cover boards?
Fibreglass mat face gypsum cover boards, such as the DensDeck® roof board, retain all the performance-enhancing characteristics that a high-density gypsum core offers with the added benefits of increased fire performance.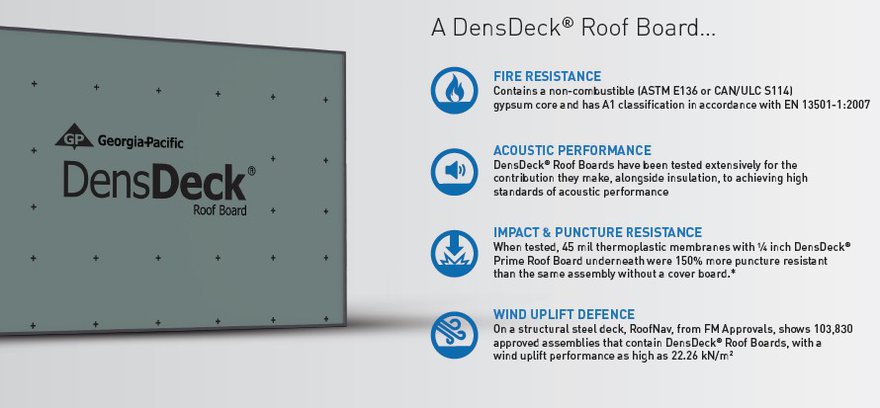 The fibreglass mat facers can also help improve compatibility with waterproofing membranes and achieve stronger adhesion. This can increase wind uplift resistance of the roof build-up.
The combination of the even surface of the cover board and the improved adhesion strength supports the waterproofing roof membrane from accidental punctures caused by dropped tools, flying debris and repeated hail strikes.
Why are cover boards increasingly used in data centers?
Cover boards are used in data centers because they can help achieve a highly resilient and robust roof assembly.
The overriding objectives when specifying a roof for the mission-critical environment of a data center are to minimize downtime and to deliver superior protection from the elements. Weather resistant boards help reduce the risk of product failure over time whilst enhancing the roof's ability to withstand extreme weather.
Data centers are particularly vulnerable to moisture and vapour ingress that could cause damage to the critical technology within the building. Specifiers lean to building components that can reliably prevent moisture ingress and are robust enough to ensure a low risk of failure over long periods.
Cover boards can absorb differential movement caused by wind uplift, helping to protect the waterproofing membrane and the whole roof system during potentially damaging high wind events.
Data center roofs are frequently used to house a considerable amount of HVAC plant and building services. This poses multiple risks to the roof build-up during the construction and once the building is finished.
The roof surface is also subjected to foot traffic during the initial installation and once the roof is completed, as the installed plant requires regular maintenance.
Dropped tools can pose a puncture risk to the waterproofing membrane, and the extra resistance that roof access boards can provide can help mitigate that risk and reduce the chances of such events causing water ingress.
Another critical specification driver for data centers is the resistance of the roof assembly to external fires and the spread of fire from within the building. Should a fire start on the outside, cover boards can help to slow down the spread of the fire, helping to minimize damage before the fire is extinguished.
To help to limit internal fire spread, an additional non-combustible roof board, sometimes called a 'roof substrate' board, can be installed on the roof deck below the insulation layer.
DensDeck® roof boards are high-performance glass fibre mat-faced gypsum roof and cover boards. They are designed to address specific challenges of commercial structures in various critical sectors, such as data centers.
If you would like further information on using DensDeck® roof boards for data centers, please visit our dedicated data center roof design page, where you can send a project or specification enquiry to one of our technical teams.