The management of data has become one of the pillars of our economy and the infrastructure protecting it inside the data center needs proper protection. Transparency is of utmost importance but studies show that more than 50 percent of all facilities do not have a standard set of management tools.
Furthermore, cooling, power, fire safety and security systems inside a data center are often not connected. It's then nearly impossible to understand how changing one system will impact all the others. Failure to recognize the interplay can lead to outages – and a majority of fa facilities have experienced this in the past 24 months – frustrating employees and damaging customer relationships.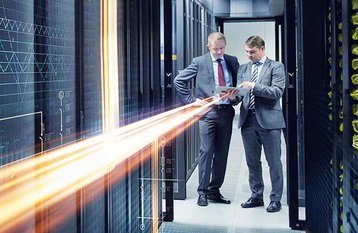 Pull it together!
An integrated data center management suite (IDCMS) provides a holistic infrastructure management approach by integrating the building management system (BMS), the energy power management software (EPMS) and the data center infrastructure management (DCIM) functionalities alongside any customer-needed third party applications.
The IDCMS helps to optimize facility and IT processes end-to-end via intelligent software, controlling and automating cross-discipline processes. This drastically reduces human errors and complexity and offers full transparency of the entire facility infrastructure. This transparency assists operators in making the right decisions when looking for efficiency and operational improvements.
The IDCMS drastically reduces human errors and complexity and offers full transparency of the entire facility infrastructure. 
The most talked about element out of the IDCMS is certainly the DCIM which gives you a single, comprehensive view into both IT and facility management, bridging the gap between the two organizations. A DCIM offering usually includes one or multiple functional modules such as IT/FM asset management and capacity planning, cable management, workflows and computational fluid dynamics (CFD).
The BMS is a prerequisite to monitor, supervise, optimize and control the entire facility infrastructure. This allows for easy interaction of multiple disciplines such as cooling / building management, energy and power management, fire safety and security services like video surveillance and intrusion detection. The EPMS helps improve power quality, providing detailed analysis and locating faults in your power network. The IDCMS then brings everything together as one view.
This integrated management approach will increase the overall availability and efficiency. Energy costs can be lowered and security increased to protect the clients' data and operations.
Of course, not every facility will need all of the available IDCMS functional modules, but the inherent flexibility of the system means that the appropriate modules can be chosen to suit each specific operation. A modular approach and scalability for IDCMS is necessary to match a particular data center's present and future needs – giving a business the flexibility to grow and efficiently handle the rapidly increasing volumes of data traffic. 
Laurent Tognazzi is global head for data centers solutions and services at Siemens