The fourth Industrial Revolution is about connecting people, information, and processes. As such, it has the potential to radically alter not just the business of manufacturing, but how enterprises of all kinds operate.
As industrial revolutions go, Industry 4.0 is decidedly different. Whereas the three preceding industry disruptions focused on making the production process faster and more efficient, the fourth Industrial Revolution is about connecting people, information and processes. As such, it has the potential to radically alter not just the business of manufacturing, but how enterprises of all kinds operate.
Let's get to it: How and why did Industry 4.0 develop, and what are its implications for your network infrastructure?
How we got here
The hype around Industry 4.0 began even before the term was coined in 2016. The concept first appears in a 2011 strategic document generated by the German government outlining a plan for the computerization of manufacturing.
The beginnings of Industry 4.0, however, date to the early 2000s with the birth of the internet of things (IoT), advances in power over Ethernet standards, and the arrival of faster 4G wireless, which enabled deployment of millions of sensors.
The first Industrial Revolution, in the late 1700s, was triggered by the development of steam power and hydropower to drive greater production volumes. At the beginning of the 20th century, widespread industrial electrification enabled the first assembly-line, mass production factories, which quickly supplanted manual production processes and signaled the second industrial revolution.
The first and second revolutions were all about how production was organized and powered, with the goal of increasing productivity and reducing labor costs. The third revolution, which began circa 1969, featured the use of digitalization and computer technology. While the primary effect was the continued automation of the factory, the digital age opened the door to computer-driven advancements that have gone well beyond the realm of productivity. Which brings us to Industry 4.0.
Why Industry 4.0 is different?
Whereas the third Industrial Revolution was defined by widespread digitalization (the rise of computers, process logic controllers, etc.), the fourth Industrial Revolution is all about fusing digital, physical and virtual resources to create intelligent processes that think, do and respond faster and more accurately than humans alone can.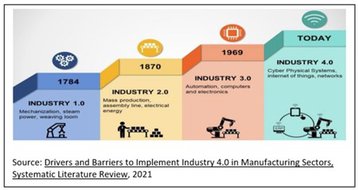 The fourth Industrial Revolution is a way of describing the blurring of boundaries between the physical, digital, and biological worlds. It's a fusion of advances in artificial intelligence (AI), robotics, IoT, 3D printing, genetic engineering, quantum computing, and other technologies.
Industry 4.0 has the potential to empower business owners to better control and understand every aspect of their operation and allows them to leverage instant data to boost productivity, improve processes, and drive growth. In that respect, it is fundamentally different from any of the preceding revolutions.
As Henrik von Scheel, one of the fathers of Industry 4.0, argued, "In essence, the centerpiece of Industry 4.0 is the people – not technology." The goal is to use cyber-physical technologies to enable autonomous and real-time decision making, monitoring and processes to create a hyperconnected, intelligent and proactive environment.
And while the concept of Industry 4.0 has traditionally been translated to mean "smart manufacturing," it is rapidly being adopted in industries such as utilities, logistics, energy, healthcare, insurance and others.
Drivers and enablers
To be sure, this next industrial revolution hasn't developed of its own accord; a variety of market forces have been pushing companies in this direction for years.
Perhaps the most influential trend has been the mainstreaming of digital technologies into people's everyday lives. An estimated 83 percent of the world's population now owns a smartphone, with all the real-time convenience of "anywhere, anytime" connectivity.
Our expectations regarding how we interact and transact with businesses mirror this new reality. This is forcing organizations to become more agile, responsive and cost-efficient ‒ automating processes, making decisions off real-time data and leveraging deeper insights to become leaner and more productive.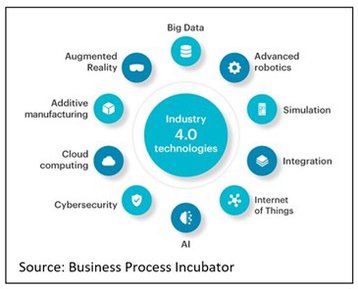 In addition, industries across the board are facing a significant de-skilling of the workforce as baby boomers retire and companies are having a hard time finding younger workers who are willing to acquire the training necessary to replace them.
This is especially affecting manufacturing and, to a lesser extent, IT-related professions. Unless the workplace dynamics unexpectedly change, enterprises must pivot to solutions that enable more standardized, automated and intelligent processes.
The technologies helping to drive these processes represent a mix of process-oriented solutions (such as advanced robotics, IIoT and additive manufacturing) plus more powerful data analytics (big data, AI, augmented reality, data simulation and more).
While these state-of-the-art developments garner many of the headlines, they would not be possible without the wired and wireless network connectivity needed to bring it all together. Developing the network infrastructures that can ably support the ubiquitous connectivity, bandwidth and power demands of Industry 4.0 looms as one of the toughest challenges.
Network infrastructure challenges
The technologies fueling these changes will rely on an evolved network infrastructure. To support the sheer volume of connected and powered devices and data traffic, the infrastructure must have a few basic requirements:
Simplify network design to enable faster deployment and provisioning
Reliably power and connect a vast number of new network devices and systems at the Edge
Easily scale and reconfigure to support converged, segmented and hybrid networks
The network infrastructure challenges can be separated into three large buckets:
Performance
The number of connected devices, a surge in data traffic and demand for real-time response converge to create a perfect storm consisting of latency, reliability and bandwidth issues. Among these, 83 percent of global IT leaders say network latency is the biggest determinant of application performance.
Industry 4.0 networks will likely rely on high-speed wired and wireless connections and an array of communication interfaces (private LTE and 5G, DAS, Bluetooth, etc.). Multi-gig network capabilities will likely need to extend throughout the facility, with multiple failover points to support UR-ULL throughput.
Architecture
Given the growth in decentralized Edge-based connectivity, network managers will likely extend the reach of structured cabling copper networks beyond the existing standards-based 100-meter distance limitation. Choosing the right cloud deployment option (private, public, hybrid) is also a big part of the design, as it determines which on-premises components are necessary.
Manageability
As network architectures become more distributed and complex, the time and cost of deploying and managing the infrastructure continue to grow. This is particularly the case with regards to supporting remote, Edge-based devices and systems. The need to reliably and quickly add network capabilities, whenever and wherever, suggests modular infrastructure solutions with distributed control.
What you should be thinking about
In any of its manifestations, Industry 4.0 will create far-reaching network changes in manufacturing, as well as data center and other enterprise environments. The following considerations are offered to help IT and network managers prepare for the disruptions.
Faster network speeds and lower latency performance could play an increased role as new, more resource-intensive and time-sensitive applications (like digital twinning) emerge.
In digital twinning, each physical aspect of the manufacturing process is virtually represented by its "digital twin." Using detailed CAD modeling, the digital twin simulates real-world outcomes ‒ enabling the data analysis and system monitoring needed to improve planning and prevent problems before they occur. These capabilities will rely on new lower latency data center deployments running at faster network speeds.
Ubiquitous network connectivity is another critical enabler as more factories are upgraded with a mix of private 5G wireless networks. Two important requirements network managers should consider are: having the right connectivity and cabling in place to support the mobile edge compute (MEC) hardware and ensuring the infrastructure to the WAPs can support multiple generations of network architecture.
Network security is among the most talked-about issues regarding Industry 4.0. The trend toward IIoT, machine learning, big data and IT/OT/IP network convergence is giving rise to new and wide-ranging security concerns. To guard against the various security attacks, CommScope recommends network managers take the following steps:
Identify and fix outdated systems, unpatched vulnerabilities and poorly secured files
Ensure device and technology partners provide regular software updates and security patches
Monitor all OT assets, in real time, to identify and quarantine vulnerabilities, if necessary.
In the coming years, the emergence of Industry 4.0 will create a vast new set of opportunities across the manufacturing ecosystem and beyond. The implications regarding network performance demands, architectures and component designs will help redefine the physical layer infrastructure as we know it.
To keep abreast of the developments and understand how they affect your network's technology roadmap, stay connected with CommScope. In our capacity as a global leader in network infrastructure, our finger is on the pulse of the industry and the emerging technology trends and issues driving it. Stay in touch and be prepared for what's next.
More from CommScope
A look at the new Terabit BiDi MSA for data centers

What happens when companies like CommScope and Equinix come together

Ken Hall of CommScope discusses why increasing data center demands ultimately lead to a more resilient fiber platform