As worldwide spending on cloud services skyrockets towards $141 billion by 2019, traditional in-house data centers seem to be evaporating. In 2005, 90 percent of data centers were enterprise-owned, but by 2020 IDC believes we can expect a 50-50 split with service providers. By 2021, there will be 15 percent fewer data centers compared to 2015, as in-house facilities are abandoned.
It's unsurprising that many CIOs are choosing to make the leap to the cloud. In an environment where IT departments are under pressure to do more with less, the cloud's pay-as-you-go business model can more closely align to business needs, reducing wasted spending. Better still, elastic resources consumedas-a-service can rapidly flex with a business's changing requirements.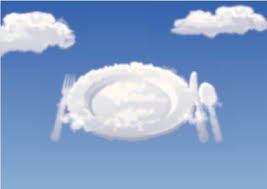 Given the breakneck pace of technological change, and how reliant businesses have become on demanding applications and analytics, the cloud's ability to remove concerns surrounding infrastructure obsolescence is also a godsend. Huge capital outlays and months of planning for an infrastructure refresh are no longer required; the cloud makes IT a simple, operational expense and ensures a faster time to market.
In-house isn't dead yet
While the cloud has signed the death warrant for in-house data centers, the axe hasn't fallen just yet.According to Dan Harrington of 451 Research, "enterprises continue to invest in their own facilities, but make no mistake, the cloud is coming".
Many organizations cannot write-off existing infrastructure investments immediately, instead preferring to 'sweat' these assets for as long as possible. Equally, most companies can't rely entirely on the public cloud due the need to safeguard sensitive data, adhere to compliance requirements, or ensure the application performance their customers demand. Instead, these requirements are pushing many organizations to adopt a hybrid approach that combines cloud-based and on-premise infrastructure.
The majority of UK companies (58 percent) are now pursuing a hybrid cloud strategy. By combining the cloud with on-premise infrastructure, businesses can benefit from a blend of services, delivery and deployment options tailored to their needs. Applications and workloads can be matched to the most suitable platforms, ensuring business operations are as efficient and cost-effective as possible. However, a hybrid approach also adds greater complexity: it must seamlessly integrate and orchestrate multiple different IT environments to support organizations effectively.
Colocation and the cloud
To Dan Harrington, the future of the data center is "either outsourcing to colocation or…outsourcing to cloud". However, the growing popularity of hybrid cloud strategies shows that the future is, in fact, both.
Colocation complements public cloud deployments perfectly, allowing organizations to host sensitive applications and data in a well-run, resilient and secure infrastructure environment, backed up by strict SLAs for performance and availability. At the same time, colocation also supports CIOs in their drive to do more with less, eliminating the cost and complexity of managing an in-house data center and freeing internal IT staff to prioritize other business goals.
As part of a hybrid strategy, colocation also vastly simplifies the challenge of integrating, orchestrating and managing different cloud platforms. Colocation facilities often contain private access points to the major public cloud providers, such as Microsoft ExpressRoute and AWS Direct Connect, allowing them to deliver high-performance, scalable connectivity to multiple clouds through a single secure connection.
With colocation enabling CIOs to capitalise on all the benefits of the cloud with none of the drawbacks, the in-house data center will become increasingly obsolete. With competitive advantage hanging in the balance, no organization can afford to be hampered by costly and cumbersome legacy infrastructure. IT transformation is no longer a question of if, but when.
The cloud may have killed the in-house data center, but it will be the drive for ever greater competitiveness that puts the final nail in its coffin.
Andrew Fray is UK managing director at Interxion
For more from Andrew see the April/May issue of DCD Magazine