Panduit's wide-ranging guide to MTDC infrastructure deployment is defined through the organization's global manufacturing and distribution ecosystem, which guarantees real-time responses within the EMEA region. Dependable, scalable network connectivity, and robust, reliable electrical infrastructure, are now mission-critical for modern enterprises. Panduit's innovative infrastructure solutions enable the high-performance connectivity that global enterprises need.
White space solutions
Reduce time from book to bill with a single-source provider of all White Space Layer 1 infrastructure solutions. The Panduit offer includes cabinets, power distribution, hot and cold aisle containment, low-voltage connectivity, copper and fiber cable, and connectivity; as well as thermal sealing, grounding and bonding solutions that protect critical connections and eliminate performance draining hot and cold air contamination. The guide includes Panduit's comprehensive fiber optic and copper systems manufactured to support advanced bandwidth physical infrastructure requirements.
Environmental monitoring and control are provided by Panduit's industry leading SmartZone solution. Providing wireless connectivity for devices, equipment, systems, and the personnel who need to know, ensuring the infrastructure is maintained at optimum performance levels.
Panduit is a leading cable, cabinet and component developer and is a principal driver of high-performance fiber and copper connectivity, with PanMPO connectors, Opti-Core patch cords cable management systems and cables. Furthermore, the SmartZone family of interconnected security, power distribution units (PDUs) and modular digital UPS units provide data access and transparency at a granular level for increased automated and manual systems management through Panduit's SmartZone™ Cloud Software.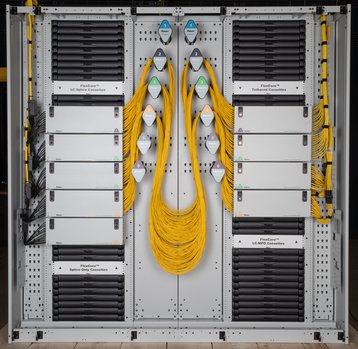 Changing requirements in the White Space require flexible solutions from the systems provider. Panduit's FlexFusion is the next generation of custom configurable cabinets providing the platform for customer specific requirements. This offers easy to adjust E-rails, PDU installation and accessories to reduce installation time. Solid construction with best-in-class loading rating offer a secure framework for server or network applications. And offering 80 percent perforated doors to increasing airflow for higher power density deployments.
Optical distribution frame
Optical fiber distribution within high performance data center infrastructures is witnessing data transport acceleration from 400G to 800G and beyond. Optical distribution frames (ODFs) are an important network element central to this development. FlexCore™ ODFs offer highly intuitive cable routing paths, therefore preventing 'rip and replace' costs. Innovative cable management and lockable vertical cable management door eliminate circuit risk and downtime.
Actual cabinet floor space can be reduced by up to 50 percent, while moves, adds and changes (MACs) are up to 30 percent faster. Furthermore, with front access cabling capability and modular units of 150mm, 300mm and 600mm (widths) Panduit's FlexCore™ ODF delivers scalability. Each frame holds up to eleven 4RU enclosures with twelve sliding trays that accept four different cassette types, greatly expanding the system flexibility.
Fiber continues to expand across the data center infrastructure with customers demanding the capability to support AI and machine learning applications and big datasets. The fiber components required to support this growth – patch cords, connectors, panels, and enclosures depend on specific cabinet and cable routing infrastructure, such as FiberRunner™ pathway solutions. Panduit provides the spectrum of solutions and accessories needed to support the growing data densities that users require.
Electrocution and power transmission
Panduit's capabilities also offer a platform of solutions developed to optimize the back-end facilities equipment, where electrical and mechanical engineers operate. The VeriSafe™ Absence of Voltage Tester, minimizes risk of electrocution by verifying the absence of voltage before equipment is accessed, ensuring electrically safe work conditions, and completes the test within 10 seconds. The system offers a simple to use one button piece of equipment and provide a highly visual warning indicator. The tester is easy to install and use on instrument panels or on the outside of cabinets that need a secure electrocution safeguard.
Cable cleats are another essential component in electrical power transmission pathways. Short circuit protection helps to minimize disruption and damage to personnel, equipment, and property. Panduit's Cable Cleats provide a wide variety of sizes and material depending on the application and are engineered for ease of installation in a range of applications and harsh environments.
The solutions are intuitive to use and compatible with a variety of ladder racks and cables. Designed and manufactured to IEC 61914:2015 these industry leading mounting brackets together with the installation tool ensure cable cleat specification and installation is simple, secure, and safe. Selecting the right cable cleat has never been easier with the Panduit Cleat kAlcultor, available at Panduit.com/cablecleat.
Panduit's Infrastructure to Support Multi-Tenant Data Center Solution Guide, is a comprehensive manual for data center operators, customers, installers, and engineers providing a virtual single source of industry leading White Space and Grey Space connectivity and communications solutions. To download your free copy, click here
More...
Kitting out data center cabinets, racks and PDUs can take months, but Panduit claims its new modular approach can slash the time it takes to a matter of days

Physical infrastructure can maximize value in both hosted and on-premises it environments

SmartZone products join existing lead-acid variants