REMOV, a Finnish data center developer, is set to embark on the construction of its groundbreaking 7.2MW data center building unit, equipped with all necessary permits. The versatile infrastructure accommodates various building types in a total area of 30 hectares, offering a prime opportunity for prospective operators with secure funding.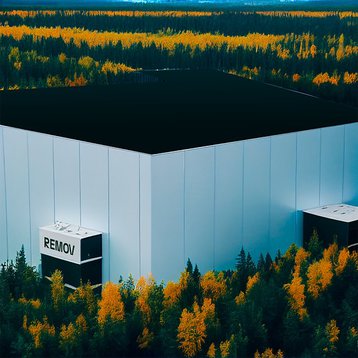 Renowned for its stability, transparency, and commitment to sustainability and innovation, Finland provides an ideal setting for REMOV's visionary venture.
The country boasts world-class digital infrastructure, unparalleled data connections, secure facilities, and abundant natural resources, including a cold climate and water sources for efficient cooling. Combined with a top-tier education system and a skilled workforce, Finland is at the forefront of sustainable development and innovation.
Key Features of REMOV's Data Center Ecosystem:
High Energy Capacity:
REMOV's data centers offer an impressive total energy capacity of 150MW, ensuring unmatched power availability to meet the most demanding operational requirements.
Supported by a robust 110kVA ring network, REMOV guarantees the utmost reliability and availability of power supply, enabling uninterrupted operations for its clients.
Energy Efficiency:
REMOV's data centers achieve extraordinary energy efficiency, with a remarkable Power Usage Effectiveness (PUE) rating of 1.1, reflecting the company's commitment to optimal energy utilization and sustainable design.
The Energy Flow Ratio (EFR) of 1.0 showcases REMOV's dedication to efficient energy use, eliminating wastage, and minimizing environmental impact.
Employing a competitive Total Cost Ownership (TCO) approach, REMOV delivers cost-effective solutions without compromising performance or reliability
Competitive Energy Prices:
Located in a prime setting, REMOV's data centers offer some of the lowest electricity prices in Europe, providing operators with significant cost-saving advantages.
Multiple Power Purchase Agreement (PPA) options are available, allowing operators to select the most suitable energy procurement strategy for their specific needs.
Sustainable Solutions:
Powered entirely by renewable electricity, REMOV's data centers lead the way in sustainable practices and environmental responsibility.
Over 90 percent of excess heat generated within REMOV's facilities is efficiently recovered and utilized, substantially reducing reliance on fossil fuels and positively impacting the environment.
REMOV seamlessly integrates surplus heat with the local district heating network, optimizing resource utilization and actively contributing to the transition away from fossil fuels.
Adhering to Environmental, Social, and Governance (ESG) principles, REMOV ensures a carbon-negative impact, positioning the company as an industry leader in sustainable data center operations.
State-of-the-Art Infrastructure:
REMOV's data centers provide uninterrupted power supply, with zero recorded power disruptions in the past two years, ensuring unparalleled reliability for businesses.
Heat recovery compensation from city-owned Seinäjoki Energy enhances the energy efficiency of REMOV's facilities, further reducing environmental impact.
Designed with modularity in mind, REMOV's data centers minimize risks and enable seamless scalability, catering to the evolving needs of Cloud Service Providers.
Compliance with TIER III class availability requirements guarantees high reliability and performance for REMOV's clients.
Benefit from tripled data fiber connection backbones and direct connections to the Nordic Sea Cable, facilitating seamless access to APAC markets.
Strategically situated in Seinäjoki, REMOV's data centers offer a safe, stable, and secure environment, conveniently located near the airport and train station.
There is a plan for a hydrogen project in the near future, which could connect to our data center area
REMOV is revolutionizing the data center landscape with its unmatched energy capacity, sustainability focus, and state-of-the-art infrastructure. As a trusted partner for cutting-edge and environmentally responsible data center operations, REMOV is at the forefront of driving industry progress.
For more information about REMOV's groundbreaking data center ecosystem, please visit www.remov.co.