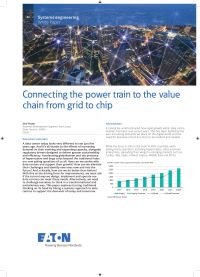 A data center today looks very different to one just five years ago. And it's all thanks to the effects of increasing demand on their evolving and expanding capacity, alongside regulatory drivers designed to deliver greater sustainability and efficiency. Accelerating globalisation and the presence of hyperscalers and large colos beyond the traditional hubs are now asking questions of us all.
This paper explores turning traditional thinking on its head by taking a systems approach to data centres to support the demands of today and tomorrow and answers some key questions:
How can we evolve with data centres and support their growth?
How can we alleviate their challenges and identify new ones now and into the future?
Critically, how can we do better than before?
Can the current way we design, implement and operate our data centres meet these needs or do we need to challenge ourselves to think in a transformational and evolutionary way?