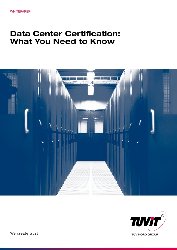 Businesses can profit in many ways from certifying the mission critical infrastructure of a data center. It gives evidence to own efforts to have built up a state of the art data center and confirms proper installations to colocation service providers.
Additionally a ranking like the one's of the German company TÜV Information-stechnik GmbH (Member of TÜV NORD GROUP, short: TÜViT) with 4 different clearly levels defined in its TSI (Trusted Site Infrastructure) method, the European Standard EN 50600, which allows a proper classification with its 4 availability classes or the 4 different Tier classifications by the Uptime Institute.
The EN 50600 is the first of its kind official data center standard on an European level, which was developed to ensure the physical security and availability during the design, construction and operation of a data center.