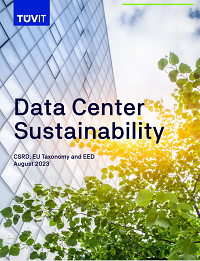 The European Commission introduced the European Green Deal in 2019, aiming to achieve climate neutrality for the European Union (EU) by 2050 while fostering sustainable economic activities. As part of this initiative, new reporting requirements have been established to address sustainability considerations in corporate reporting.
This whitepaper provides an overview of sustainability reporting and its impact on the infrastructure of data centers. Notably, there are two distinct sustainability initiatives within the EU, each spearheaded by different Directorate Generals (DG):
DG CONNECT focuses on Corporate Sustainability Reporting and the EU taxonomy.
DG ENER oversees the Energy Efficiency Directive (EED).
Read this whitepaper and understand all aspects of reporting, including what information to include, how to structure your report, deadlines for reporting, and more.