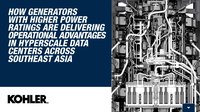 The data center construction market in Southeast Asia is predicted to grow by $3.61 billion during 2021-2025, according to the latest research, progressing at an impressive compound annual growth rate of almost 12 percent.
Modern data centers in Southeast Asia all need access to reliable, resilient and efficient backup power that can be delivered in an instant. As a result, increasingly, these facilities are choosing higher power node gensets to meet their demands.
This paper looks at the solutions presented with high-power generators in the context of this massively growing demand.