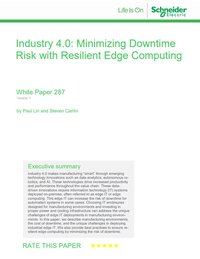 Industry 4.0 makes manufacturing "smart" through emerging technology innovations such as data analytics, autonomous robotics, and AI. These technologies drive increased productivity and performance throughout the value chain.
Choosing IT enclosures designed for manufacturing environments and investing in proper power and cooling infrastructure can address the unique challenges of edge IT deployments in manufacturing environments. In this paper, Schneider describes manufacturing environments, the cost of downtime, and the unique challenges in deploying industrial edge IT. They also provide best practices to ensure resilient edge computing by minimizing the risk of downtime.
Download for free, now.