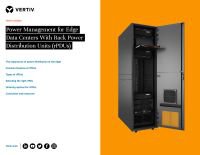 As data center and edge locations become more business-critical, so does the availability, efficiency, and cost effectiveness of power management.
Rack power distribution units (rPDUs) are the last link in the power chain. They are designed to distribute power to all types of IT equipment at the edge and help ensure availability of critical IT loads.
With edge sites expanding and growing, the rPDU features and functionality become increasingly more important to achieving efficient power distribution and to responding to changes in data center capacities and densities. Read this whitepaper for insights into how you can implement rPDUs in your data center.