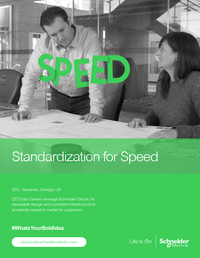 Ask three colocation providers to describe the ideal data center strategy, and you'll get three different answers. There's one thing, however, they would all agree on: speed to market. To match diverse specifications without delay, QTS offers a combination of data center models and is working with Schneider Electric to help standardize its portfolio for even faster deployment.
Providing three different data center types in the same facility, QTS is able to create the right model and deploy the optimal combination of approaches for organizations of all sizes.
"Our '3-Cs' include custom data centers, traditional colocation, and public and private cloud," says Nathan Hazelwood, Director, Strategic Procurement, QTS. "The choices allow our customers to scale as business demands, and the options also support an increasing market demand for a hybrid model."
How do you actually build for all three models? Creating a repeatable foundation through standardization provides a starting point. QTS builds out its infrastructure regardless of whether the end result will be custom, colocation or cloud.
"From there, we can modify to fit for the specific customer," says Hazelwood. "Being able to meet an immediate need for customers is a win for our business. To us, standardization is about speed."
To find out more enter your details below to receive your free QTS case study