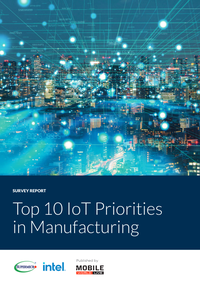 Industry 4.0 for IoT will transform industries — whether it is providing predictive analytics or real­ time production data — and make businesses operate more efficiently and more cost effectively.
Mobile World Live conducted an online survey, on behalf of Supermicro, of telecom service providers, end user IIoT device and software makers, IIoT software services and development companies, as well as cloud service providers and IIoT equipment makers to better understand their top priorities for IIoT.
The survey confirmed the significance of deploying IIoT infrastructure and the importance of edge computing and cloud­ based services when implementing artificial intelligence at the edge. Ease of deployment is vital and so is the quality of the wireless network connectivity.
Download the full report to access key takeaways and findings from this survey.