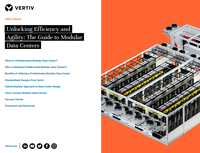 Research done by Vertiv and Omdia in 2022 revealed that of 228 companies surveyed from diverse industries across the globe who operate their own data center, more than half have already deployed prefabricated modular data center solutions.  Furthermore, 93% said that prefabricated modular solutions would be their default construction strategy for their data centers in the future.
Why are these industries adopting prefabricated modular data centers? In the same survey, respondents said modularity was a leading factor for scalable data center growth, followed by standardization to reduce maintenance expenses and enhance operational simplicity.
In this whitepaper, Vertiv looks into this trend to assess the benefits of utilizing a prefabricated modular data center and the challenges it can bring. We also look at standardized designs from Vertiv as well as case studies on a variety of roll outs.