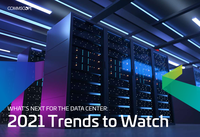 Looking to the year ahead: What's impacting the data center?
There's no such thing as 'business as usual' in the data center, and 2020 was certainly no exception to this rule. With the volume of data pouring into the data center continuing to climb, driven by even greater connectivity demand - network planners are rethinking how they can stay a step ahead of these changes.
Download this eBook, bought to you by Commscope, to take a look at the top trends to watch as data center managers plan for 800G and the data mushroom effect that 5G will bring.