The skilled staff at data centers are aging faster than much of their equipment, because recruitment has fallen behind the level needed, the DCD>London event heard. Part of the answer to reversing this will involve emphasizing gender diversity, said Heather Dooley, Google's global director of business operations, learning and tools.
Dooley's team operates across a huge range of disciplines, covering facilities management, land and power purchasing, research and development, and construction, environment, health and safety, and physical security. At the DCD>London conference, she offered suggestions to fix the industry's skills problem, in a conversation with Uptime Institute analyst Rhonda Ascierto.
Given the need for talent within her team, Dooley is setting up a new Google body to address the issue of education and skills, and attracting talent. She brings an important viewpoint to this, as Ascierto pointed out: "Heather is one of the most powerful women in the data center sector - and she doesn't have a mechanical engineering and electrical engineering degree, she doesn't have a traditional background."
Supply and demand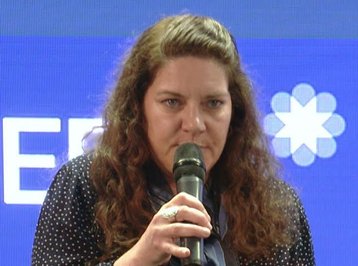 "There's a variety of different situations that are happening within the industry," said Dooley. "The first thing, it's just basic economics, there is a supply and demand issue. We've all grown rapidly, very quickly. And frankly, we did not keep up the pipeline, and our recruitment has fallen behind."
The problem is still increasing: Uptime Institute found that 38 percent of managers in the data center industry were having difficulty finding qualified candidates for open jobs in 2018 - and in 2019, this rose to 41 percent.
This problem is partly due to the low profile of data centers and the people who work there. Dooley led an effort to get the most out of the "human aspect" of the industry sector, using photos of staff at the company's data centers to emphasize their importance.
"I am super proud of that work," she said. "It's called the data center profiles initiative. We went around the world, and interviewed workers at our data centers, and in sorts of roles with all sorts of levels of responsibility with all sorts of backgrounds. We did these photographs of them in their working environment, which also included a bio, and we put that front and center. When you look at google.com that's one of the first things that comes up. It's a humanizing play. We want to connect people to this industry."
Lack of awareness of the data center industry is unfair in itself, but it also means that the sector does not attract the best talent, she said: "The work you are doing is incredibly important to the world. But quite frankly, no one knows about it. So that means that we're not recruiting net new talent into the industry, because we are hidden from most of them. We want people to see themselves in this industry."
New blood
The lack of new talent has had a profound effect on the age profile of the data center workforce, said Dooley. The drought of new blood in the industry means data center organizations are working with an aging workforce, said Dooley: "There's a graying out of the workforce," though this goes across the board. In 2012, statistics say that "53 percent of all skilled trade labor in the United States was over the age of 45, and 18 percent were between the ages of 55 to 65.
"Since the 2008 downturn, we have not been building up the skilled trades that are necessary for all of you to be successful and for [Google] as well," she said. A time of low unemployment accentuates the problem, she said: "In the United States, the UK, and Singapore, all major hubs for data centers, unemployment rates are less than four percent. So, all of those things are pulling on all of us."
While debate tends to focus on engineers, the problem is broader, she said, as data centers are "a very rich and complex supply chain or value chain." As well as all kinds of engineers, (mechanical, electrical, civil, structural, architectural, or facility maintenance, and operations) there are other disciplines needed: "I challenge you to also remember that there are the additional services: legal services, finance, marketing, accounting, and HR."
As a liberal arts graduate, with a successful career in data centers, she thinks the industry should look beyond its default pool of engineers: "I'm going to challenge you on what is a qualified candidate. Just look at your recruiting practices, and ensure you're casting a wider net, that you're looking for transferable skills."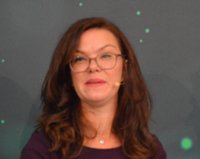 How to get more women in the industry
Part of this widening obviously includes diversity. It's often pointed out that the industry would have more chance of filling vacancies if it addressed more than 50 percent (or less) of the potential workforce, and made itself attractive for women and minorities.
"This is a small industry," she said, "and whatever we can do to help promote, qualified, talented thinkers to come into this industry, we're going to make those investments.
Dooley's division in Google is already above most departments' aspirations for gender equality: "50 percent of my organization is gender diverse, and 60 percent of the people in my organization that have leadership roles are women." She puts that success down to attention to detail, and the fact that once an organization begins to move towards diversity, it tends to drive it further.
"Diversity is a magnet for diversity," said Dooley. "So if you break through and create an environment of diversity and inclusion, you will be more successful hiring more diverse talent and developing a better pipeline."
The effort begins with paying attention to the recruitment process, she said: "You have to be very clear what your objectives are with your recruiting teams, asking them to reread all of your job descriptions. You would be surprised how much masculine language is used in job descriptions and it turns women away from even hitting the button from the beginning. So that means they're not even applying for the roles."
This follows through to interviews: "I make sure that the panel of interviewers is representative of what I'm trying to accomplish. I don't have an all-male panel interview with a female. I always have gender diversity on every panel for every role coming into my team."
And once good people are on board, she advises organizations to keep them, by addressing how often talent gets hired away: "Do you know how much time and effort you've put into recruiting, and then to lose that valuable talent? That is shameful."
To keep staff, organizations should ensure that they have "a safe workplace, a place where people are participating in problem-solving," she said. Within the organization, talent should be heard, people should feel comfortable. They should be "confident that you've given them a career path that you're investing back in them."
With over two decades of experience in the tech industry, Dooley grants that she's on the senior side of the graying workforce, but it's clear she is pushing hard for change. As a leading figure on Google's data center expansion board, she has a strong say on where the company sets up shop, and how it operates.