There's something strange afoot in Michigan.
For more than a decade, Google has been developing self-driving cars with the aim of rolling out fully autonomous systems that can operate independently within cities. But a new development suggests that its confidence in achieving 'Level 5' autonomy any time soon is waning, and that might be huge news for the Edge.
Edge companies have long touted self-driving cars as the compelling use case they need - something that demands a vast roll-out of latency-sensitive compute resources. But their statements have never quite squared with the autonomous vision of companies like Google, which insisted that any Edge computing needed could be in the car itself, no compute-filled street lamp required.
Now the future isn't so clear.
This feature first appeared in the August Edge in the Modern Age supplement. Read it for free today.
Mixed signals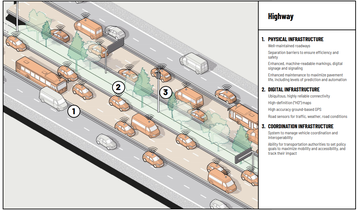 This August, Google-parent Alphabet announced that its subsidiary Sidewalk Infrastructure Partners had a new subsidiary of its own, Cavnue. The company held a launch event for a new initiative - to build a 40-mile (64km) stretch of road.
This might not sound like much, and a strange project to highlight, but this is no ordinary road. Connecting the old, rusting automotive city of Detroit to the vibrant self-driving research hub of Ann Arbor, it is also more than just a heavy-handed metaphor.
It's an admission of failure. The road is set to be designed specifically for autonomous and connected cars, with Alphabet facing the reality that autonomous vehicles aren't quite ready for existing city structures. "The general consensus is it's harder than we thought," Cavnue cofounder Jonathan Winer told Fortune at launch.
The project has an advisory committee of automotive and autonomous mobility companies, including Ford, GM, Argo AI, Arrival, BMW, Honda, Toyota, TuSimple, and Alphabet's Waymo. Ford and the University of Michigan will also operate as project partners.
The idea is to learn what infrastructure and software will be required outside of self-driving vehicles to make them safe.
It's early days, and there's a 24-month consultancy plan. The parent company Sidewalk Infrastructure Partners (owned by Alphabet and the Ontario Teachers' Pension Plan) is anxious to avoid the fate of Sidewalk Labs (wholly owned by Alphabet), whose plans for a mini smart city in Toronto were thwarted by opposition from locals, privacy campaigners, and a Blackberry billionaire.
Already, this new project has political backing, with Detroit's mayor and Michigan's governor throwing their weight behind it - not a surprise, given the precarious economy.
But the fear of cancelation may have prompted Cavnue to be more open than it would have preferred, publishing a proposal on its website detailing the project. DCD went through it, and found a vision that would require a whole lot of Edge compute.
"Despite $80 billion invested in AV solutions, full autonomy is years, if not decades, away," the document admits. "However, this investment dwarfs the amount spent on supportive infrastructure that could accelerate the adoption of CAVs [Connected & Automated Vehicles] and allow them to operate even better than uncoordinated AVs. [Cavnue] was founded to close this gap."
The document explains that while on-board sensors like cameras or LiDAR are used to detect signage and traffic signals, this "could be enhanced by having this information digitally transmitted from the roadway infrastructure."
It adds: "Most AV companies make the assumption that the infrastructure is not evolving - and so do not plan for or invest in communications with infrastructure or other vehicles.
"Given the gap between the benefits of CAV infrastructure and the comparative lack of investment in this field, there is a compelling need and an opportunity in the coming years for forward-thinking jurisdictions to prioritize such infrastructure."
The 40-mile corridor will consist of four layers - augmenting the physical roadway; installing and integrating digital systems, including sensors and connectivity; a "digital twin" system which represents the environment in real time and coordinates CAV driving; and operational infrastructure, such as shared mobility systems.
All of this requires a fair amount of sensors dotted along streets, matched by compute to power it all - and it has to operate quickly (at a low latency), given what's at stake. For this project, Cavnue "will function as systems integrator, combining best-in-class hardware, software, and operational components required to facilitate CAV corridor projects," but to be accepted more broadly the company realizes this will need to be a vendor-neutral system.
Here, other Edge companies may find success - with 4.18 million miles of road in the US alone, there's a lot of space for competition.