The first submarine cables – built to send telegram signals – were laid in the mid-1800s and helped create the foundations for today's Internet infrastructure.
The first submarine telephone cable, TAT-1, was laid between 1955 and 1956. A joint project, the cable was paid for by a consortium of the UK Post Office (which then housed BT), the American Telephone and Telegraph company (now AT&T), and the Canadian Overseas Telecommunications Corporation. The first fiber optic cable came a little over 30 years later, and again was laid in partnership between AT&T, France Télécom, and British Telecom.
This article appeared in Issue 42 of the DCD>Magazine. Subscribe for free today
Today there are almost 500 subsea cables in operation or development. And while telecoms companies are still very much part of the picture, trends are increasingly shifting away from telco consortiums and more towards cable projects led by Over-The-Top (OTT) hyperscalers.
Just as how they're making some of the largest investments in data centers, the likes of Facebook, Google, Microsoft, and Amazon are investing hundreds of millions of dollars in a multitude of cable projects across the world and changing the industry in the process.
"Having accounted for less than 10 percent of total usage prior to 2012, Google, Facebook, Microsoft, and Amazon are currently invested in over 40 submarine cables around the world, supporting somewhere in the region of 250Tbps each," says Brian Lavallee, Ciena submarine networking solutions expert. "Apple, Dropbox, Netflix, Alibaba, Akamai, and Limelight represent much of the remainder."
Hyperscalers take to the seas
Where once telecoms and communications companies ruled the seas and shared ownership of subsea fiber, the hyperscalers are increasingly investing in submarine cables both as part of traditional consortiums and as private projects. Where they were once major customers of subsea capacity, they are now peers or even leaders on new projects; the four companies have invested in more than 30 cable systems over the last ten years.
"20 years ago they were all consortium cables; all the traditional telcos all chipped in and created a consortium group, and they funded these projects," explains Gil Santaliz, founder and CEO of New Jersey cable landing station NJFX. "Today, the folks that are supporting these projects being built are smaller groups, and they're the companies that are social media and cloud companies, because they realized they needed the owner economics, they needed to control the architecture."
One of the biggest hyperscale investors in subsea cables is search engine giant Google. According to SubmarineNetworks.com, Google has invested in at least 19 submarine cables since 2010, including six private cables.
Google's first submarine cable investment was the Unity cable around 2010. The search giant joined a consortium of Bharti Airtel, Global Transit, KDDI Corp., Pacnet (now Telstra), and SingTel to build a cable connecting Chikura, Japan to Los Angeles, US.
Today the company is making largescale investments in both private and consortium cables that are amongst the biggest in the world and has a number of other cables in development; The 16 fiber pair, 350Tbps Grace Hopper cable will connect the US, UK, and Spain, and is due to come online in 2022. Its Equiano Portugal-to-South Africa cable is due for completion later in the year. Announced in June, Firmina will run from the East Coast of the US to Las Toninas, Argentina, with landings in Praia Grande, Brazil, and Punta del Este, Uruguay.
"Systems built even 20 years ago lack adequate capacity and important new technical capabilities, and can no longer manage the job," says Mark Sokol, senior director of infrastructure at Google Cloud. "Updated technology is required to address this continued growth in demand for capacity, driven by cloud computing, future Internet advances, backend replication, and the many breakthrough innovations that lie ahead.
"We are building out our network to provide the best possible experience to our end users and customers. By designing and funding subsea cables we are able to plan effectively for the future capacity needs of our customers and users around the world, and add a layer of security beyond what's available over the public Internet."
The search giant's Virginia-to-France Dunant cable went live earlier this year. The company claims the 6,400km 12 fiber-pair cable is capable of 250Tbs, making it the world's highest capacity submarine cable. That will be surpassed by the company's 340Tbps UK-US Grace Hopper cable, which recently landed in Cornwall and is due to come online soon.
Even if new cable projects are funded through consortiums, the OTT hyperscalers are happy to partner together; Facebook has partnered with Google, Microsoft, and Amazon for different cable projects.
Google and Amazon have both invested in the US-Denmark HAVFRUE cable, while Microsoft and Amazon both own fiber pairs on the Spain-US MAREA cable. Facebook is part of both projects, as well as a number of others including the Echo and Bifrost systems to connect the West Coast US to Singapore and Indonesia.
"These companies have dedicated teams and in-house talent that know how to manage a project," says Santaliz. "They know how to partner with others for like-minded opportunities, and they're working on multiple projects at the same time. It's not the way it was 20 years ago when you have 22 companies involved in a project that met four times a year on one project."
While the hyperscalers are happy to share capacity on cables, it's unlikely they'll start reselling capacity. Alan Mauldin, research director at TeleGeography, previously told Wired that they "would never do that" because they would then become a carrier and subject to being licensed as a carrier. In the same piece, Urs Hӧlzle, a senior vice president of technical infrastructure at Google's Cloud division confirmed that Google "doesn't want to be a service provider as an ISP" and is going it alone because consortiums can slow the process of building new cables.
Hyperscalers want control of cables and capacity
The drive by the hyperscalers and other OTT providers is driving up cable capacity at a rapid pace; Telegeography.com reports that the amount of international capacity deployed by content networks rose over nine-fold, to 962Tbps, between 2015 and 2019. The research firm says that having accounted for less than 10 percent of total usage prior to 2012, content providers' share of total cable capacity was over 65 percent in 2020.
"ISPs are building their own submarine cable infrastructure to increase capacity, offer richer services, and deliver international access to their coveted content," says Ciena's Lavelle. "This is certainly having a positive effect on the wider submarine cable industry, as it results in more competition and route diversity for increased availability, therefore accelerating access to increasingly reliable global connectivity."
As well as new cables, existing cables are being continually upgraded with new technology. Following a trial earlier this year, the trans-Atlantic MAREA cable – originally designed with a capacity of 160Tbps – saw its potential capacity increase from an already upgraded 200Tbps to 224Tbps.
Santaliz says much of the rapid progress being delivered in cable technology is being driven by the hyperscalers demanding more of their suppliers.
"Google and Facebook have really been the pioneers and pushing these companies like SubCom and Alcatel to up their game," he explains. "They've been asking them for better solutions, they've done a great job of hiring talent inside their companies to push the envelope and get the manufacturers to invent more. They've reinvented the industry in the last five years.
"They're no longer just sitting there waiting for a proposal, they're driving innovation they're driving applications are sitting side by side with the telecom operators, and in some cases they're telling them here's a better way of doing it."
Santaliz says one of the reasons the large hyperscalers are investing in cables is to ensure continuous uptime and connectivity; lost connectivity hurts the brand.
"Whether your brand is social media or banking you need to make sure your network is always available. This round of investments for subsea networks [is the likes of] Facebook, Google, Microsoft; [but] I'm even starting to see US banks invest in subsea cables."
Will other OTT players want to invest in cables?
With the large cloud players only growing their investments in data center infrastructure globally – Microsoft alone has said it's on course to build 50 to 100 new data centers each year for the foreseeable future – their demand for new cables and increased capacity is unlikely to be satisfied any time soon. But will other large companies follow?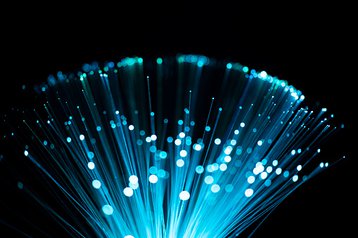 Santaliz says only the largest enterprise customers that will take the time to learn the subsea industry and learn the architecture to do it themselves on subsea cables, but notes that the banking industry is one that could be next.
"The banking industry has always been just a customer to telecommunications, and they've been watching the OTTs go from being customers to partners. Transactions are important; the idea of not being able to process a payment or finalize a trade or close on a deal because your app's not available, means they realize that 'never down' and their brands are related."
We may already be seeing it; Morgan Stanley has bought 49 percent of Altice's regional fiber network. And Santaliz notes that while they might have bought the infrastructure as a financial investment, it is certainly also going to improve the firm's digital resiliency.
"Morgan Stanley's not going to have an outage on anything related to New York Metro on that network because they have an owner's perspective now they're not just the customer anymore."
While the biggest OTT players have been investing in data centers and cables, smaller content companies have been more focused on Content Delivery Networks (CDNs) and ensuring their content is cached close to their customers. But could that change in the future?
Derek Long, head of telecoms and mobile at Cambridge Consultants, has previously discussed with DCD the possibility of large content providers like Disney jumping into Internet infrastructure through High altitude pseudo-satellites (HAPS), perhaps the same could happen with subsea cables.
"If we will see more OTTs outside of the 'Big 5' take this route is unclear, but it is highly likely within the next five years," says Mattias Fridstrom, chief evangelist at Telia Carrier.
Where do telcos fit in an OTT world?
As well as driving innovation around the technology, the rise of OTT players investing in their own cables means the rest of the cable industry must also adapt how they do business. In July, Global Cloud Xchange canceled its Italy-to-Singapore Eagle cable because of a lack of an anchor tenant.
"The old adage of 'build it and they will come' no longer works," CEO Carl Grivner recently told Capacity.
"There was nothing wrong with Eagle – just no anchor tenant. It's an OTT [over-the-top] world and if you're getting a consortium of wholesale carriers together you need an anchor tenant. I looked at the business case and it wasn't working."
For the ISPs, Ciena's Lavalle says he expects to see a 16 percent decline in wholesale pricing year-on-year, and a 28 percent decline by 2027.
"ISPs are looking for more capacity in addition to lower costs per bit to remain financially viable," he says. "Pricing is, therefore, the main threat to business."
As incumbent cables are retired and hyperscalers make more direct investments in new cables, the traditional economics for telcos may not stack up as they once did. But despite this, they still have a role to play in the industry.
"On the larger traffic paths (cross-Atlantic and cross-Pacific), I think we have seen the last consortiums with telcos involved," explains Fridstrom. "Most new cables will be built by one or a few owners with a fiber pair as the least denominator.
"On more un-traditional routes to 'newer' areas like Africa, I can still see Telcos being involved to secure a lower cost path towards other regions for their domestic traffic. In Europe and North America, Telcos needs to focus on meeting up subsea cables for further transport inland on their land networks."
Santaliz says the carriers aren't going to be the 'go-to guys' when it comes to innovation, and will instead invest in "interesting architectures." An example he gives is Telecom Italia and Omantel's Italy-to-India Blue-Raman cable, which bypasses the overcrowded Suez Canal by going overland into Israel for a portion of the cable. Google is also involved in the project.
"They're going to be rewarded because they were innovative and they were able to solve for that issue. That's where the carriers will find their place and in providing their traditional values of point-to-point solutions and partnering with the OTTs and partnering with the enterprise."
Gavin Rea, CTO at Gulf Bridge International (GBI), notes that some cable owners have decided not to involve OTTs directly in their cables, and much depends on the kind of relationship the carriers want with the OTT players in the future.
"Each cable owner needs to make their own decisions on whether to work directly with the OTTs as partners in a new cable or maintain a customer relationship selling them capacity."
In the longer term, Michael Ourabah, CEO of infrastructure and connectivity provider BSO, warns the ecosystem around cable operations needs to grow in order to keep up with demand, lest the hyperscalers take over.
"The supporting ecosystem of repair assets like cable repair ships and specialist equipment vendors will not have enough capacity to support the growing volume of subsea cables; that could lead to the development of a two-tier system where high-volume routes run by hyperscalers stockpile repair assets and are well served by them but lower volume routes are not well provisioned and deteriorate," he says.
"The only way to remain competitive for consortiums will be to cooperate with OTTs and hyperscalers and look to offer complementary services that extend the reach of networks to areas where cables cannot yet readily reach."