Building at Scale
Watch sessions on-demand
The virtual conference on data center design & construction
How to support Next-Gen data center applications in your next build
This session took place on July 10, 2020
Please complete the following form to access the full presentation.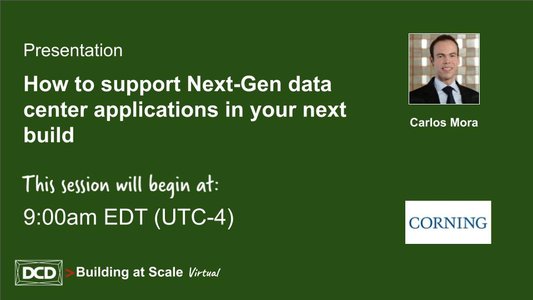 How to support Next-Gen data center applications in your next build
Massive compute power for AI and ML applications, connected vehicles and the growing demand in cloud services all boost the growth in the number and size of hyperscale data centers, however, the demand for more compute power closer to the user is growing as well. The network edge is needed to support workloads for rapid two-way data transmission and low latency applications, such as those used by financial services, streaming and online gaming. 5G and even the next generation of 6G will open up new business opportunities in multiple segments.
This presentation looks at how data centers can prepare from the outset to meet the bandwidth, latency, density and security needs to keep business applications running at an optimum. Hear how to futureproof your next build, and enable critical infrastructure to remain intact in times of challenge, while balancing the need for automation, real estate and energy efficiency when building at scale.
Speakers
Brought to You by