Building at Scale
Watch sessions on-demand
The virtual conference on data center design & construction
Optimizing network infrastructure for scale and speed
This session took place on July 8, 2020
Please complete the following form to access the full presentation.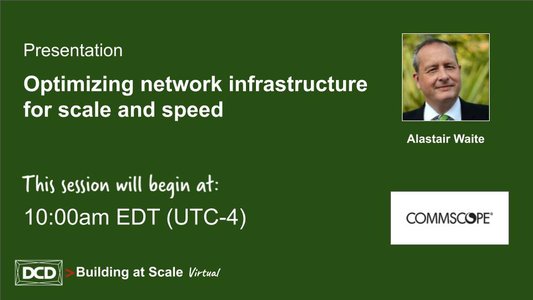 Optimizing network infrastructure for scale and speed
The cost and complexity of designing and deploying modern data centers are growing. The trend is being driven by multiple factors that all share a common denominator: the need to transport, process and store the vast amounts of data being generated by business, industrial, networking and social applications. The technologies being developed to accomplish these tasks are creating daunting challenges for data center managers, especially hyperscale, cloud and large enterprises.
In this session CommScope will reflect on some of the trends associated with these challenges, and explore the latest physical layer technologies that can be used to expedite large scale deployments, whilst still maintaining efficient migration to higher data rates.
Speakers
Brought to You by