Control & Automate
Watch sessions on-demand
The virtual conference on mission critical operations
Tech Showcase Day One
This session took place on July 28, 2020
Please complete the following form to access the full presentation.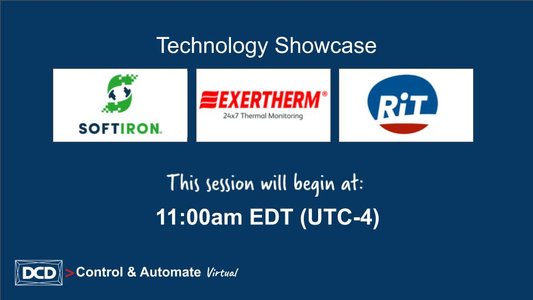 Control & Automate Tech Showcases
A series of quick-fire presentations showcasing the latest DCIM and remote monitoring technologies, providing transparency and security from a distance:
RiT Tech Ltd - DCIM driving the economics of hybrid digital infrastructure
DCIM requires a new business-focused approach to deliver on the currently unfulfilled potential offered. Data Centre operations require seamless integration across complex hybrid digital infrastructure and geographically diverse estates. This is needed to access the collated and accurate, real-time information from the entire data centre operation, which is required to manage against business goals and objectives. This presentation offers a glimpse of a new business-driven approach by RiT and Intel to data centre and digital infrastructure management and the emergence of a single source of data centre business truth.
SoftIron - Control & automate Ceph Storage Management with SoftIron's HyperDrive® Storage Manager
According to Gartner's report "2020 Strategic Roadmap for Storage", "by 2024, more than 30% of enterprise storage capacity will be remotely managed outside of enterprise data centers, up from less than 5% in 2020." The result is that more and more important data will be created on infrastructure that's further away from the core data center, or on 'edge infrastructure'. This will lead to new challenges in maintaining control, and means automation will become even more important. Until now, open source has been  hampered in delivering this capability because of the traditional separation between hardware and software layers. SoftIron's HyperDrive storage platform is purpose-built to optimize Ceph open source storage, enabling granular levels of control and automation throughout the stack, with HyperDrive Storage Manager. Now is the time to be future-proofing your capabilities by investing in technologies that will enable you to operate more effectively and efficiently.
Exertherm - Why is sensor selection a critical decision for IIOT?
The accelerating global IIOT revolution, requires the transformation from periodic data collection to continuous monitoring data collection, which is subsequently analysed; transforming the data into commercial information which provides the significant bottom line benefits available from IIOT. This presentation will identify and explore why the selection of sensor technology for data collection is one of the most critical decisions, and why it should not be delayed.
Brought to You by