Balancing the carbon books; approaching your data center assets like a carbon accountant
This session took place on February 24, 2021
Please complete the following form to access the full presentation.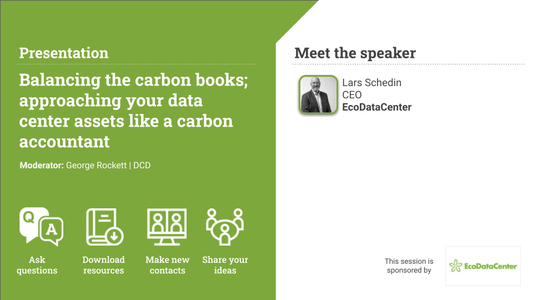 Balancing the carbon books; approaching your data center assets like a carbon accountant
The idea of carbon accounting is starting to take hold in numerous industry sectors where CO2 intensity is a major factor. It covers a range of different practices such as calculating gas emissions, financial carbon accounting, which looks at giving carbon a financial market value, and historical - balance sheet - management.
This presentation looks at approaches to understanding carbon quantification from a data center perspective, both as a service provider and as an enterprise end-user, which can steer the industry towards effective mitigation decisions, and away from poor ones.
---
Do data center operators need to be more honest about embodied carbon?
Roundtable discussion
We invite you to join this roundtable directly following this conference presentation to continue the conversation, share your own insights and to find potential collaborators.
Speakers
Brought to You by