Simplify, Consolidate, Modernize: How We Modernized Our Data Center Using Hyperconverged Infrastructure
This session took place on April 10, 2019
Please complete the following form to access the full presentation.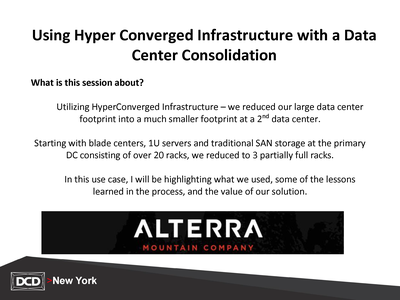 Simplify, Consolidate, Modernize: How We Modernized Our Data Center Using Hyperconverged Infrastructure
In this use case, a primary data center closed and workloads migrated mostly to the secondary data center and to a remote office. In doing so, there was a significant reduction in rack space by using hyper converged infrastructure away from blade centers and traditional SAN storage. Jim's session will center around a review of decision strategies for the equipment with some hindsight regrets.