Beyond Hyperscale: Building the rest of South East Asia's infrastructure
This session took place on September 17, 2019
Please complete the following form to access the full presentation.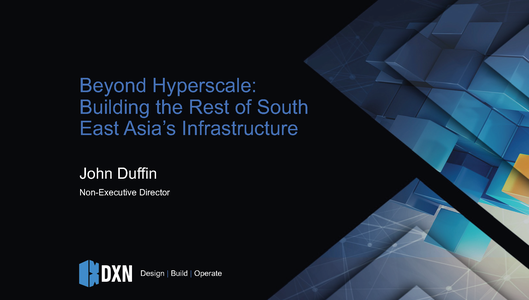 Beyond Hyperscale: Building the rest of South East Asia's infrastructure
The "Connected" Datacentre as we know it has been in existence for only 20 years. Prior to that data processing and storage was carried out on IT equipment housed in computer rooms located at customer premises. Over time, Datacentres have evolved to suit different needs and there are now many types increasing optimised for specific purposes.  Equally the processes used and people involved in delivering these facilities has evolved and will continue to do so.  The next 10 years will some of the greatest changes yet and new approaches will be needed to allow fast deployment of large numbers of Datacentre facilities in locations where good construction skills may not be available.   Looking forward, this presentation examines the drivers and enablers that will shape Datacentre development is South East Asia over the next 10 years.
Speakers