Panel: So, what's becoming our new data center 'normal'?
This session took place on October 6, 2020
Please complete the following form to access the full presentation.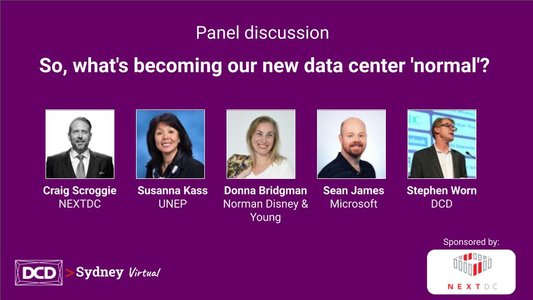 Panel: So, what's becoming our new data center 'normal'?
The forces of change driven globally by pandemic and locally by a savage bushfire season have accelerated over the past 12 months and this is impacting data centers. Our experts will discuss what has been learned from local and global impact factors in terms of the design and operation of future data centers and associated infrastructure. What technologies, systems and thinking will shape the transition to future infrastructure in Australia and New Zealand?  
---
How can local data centers prepare for a future of climate change and accelerating risk?
Roundtable discussion | 11:00 to 11:50 AEDT
If you are an avid networker, naturally inquisitive and eager to take part in an interactive learning environment, albeit virtually, or if you prefer to sit in to listen and learn, we would like to invite you to join up to 20 of your peers for this themed roundtable discussion.
We encourage you to have your say on pivotal subjects we have addressed during the day's proceedings using a state-of-the-art video conferencing platform.
Speakers
Brought to You by