Old fashioned, passé, a relic from the past. If you have ever thought there is no longer a need for colocation in your IT infrastructure journey, keep reading.
Colocation is, perhaps, one of the more 'traditional' data center sectors, but it is by no means being edged out of relevance by the cloud. The fact is, all types of data centers have their unique and important role to play, it just depends on what you need them for.
In fact, when we break it down to numbers, the global colocation data center market was valued at $50.3 million in 2021, and expected to grow to $159.8 million in 2023, according to Global News Wire.
In the latest eBook from Iron Mountain Data Centers – the Infrastructure Planning Report for EMEA – Frankfurt, the continuing relevance of colocation is abundantly clear.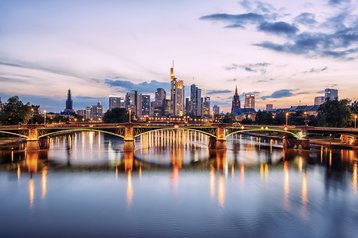 For example, did you know that the European colocation market will expand at a CAGR of over 13 percent over the next few years? It is information like this that the eBook can provide you.
Starting with an analysis of European infrastructure and the different markets in the region, market values and growth projections, this eBook goes on to explore the value of the German market specifically.
Why Germany?
Germany has many advantages as a data center location. With easy access to the rest of Europe and the region's largest single economy, it is a clear contender location-wise. But beyond that, the country's data protection laws make having infrastructure in the country an absolute necessity for businesses looking to gather data from their residents.
Several companies are paying attention to this. In October of this year, German energy firm Mainova broke ground on a new 30MW colocation facility in Frankfurt, and in early November, Vantage launched three new data centers in Germany, two in Berlin and one in Frankfurt.
As a primary market for new data center deployments, and arguably one of the most developed of the FLAP (Frankfurt, London, Amsterdam and Paris) regions, Frankfurt has long dominated as a desired data center destination.
An area of Germany with a strong financial industry, and home to DE-CIX, an internet exchange where around a thousand international networks connect, it's easy to see how Frankfurt has come to boast a particularly strong and highly saturated colocation industry.
The eBook goes on to look at Germany's, and specifically Frankfurt's, issues and opportunities, including its potential regarding power and interconnections. In other words, it is a go-to guide if you are thinking about building or leasing in Germany.
That said, with authorities considering an Energy Efficiency law which the German Datacenter Association believes will effectively prohibit new data centers from being built, there has understandably been some hesitancy to invest in Germany of late.
But in reality, Germany (and specifically Frankfurt) is a powerhouse of opportunity, with many European data center providers such as Iron Mountain Data Centers already in step with sustainability requirements, alongside continuous innovation to help ensure a more sustainable future for the industry.
The eBook rounds up with an exclusive look inside Iron Mountain's Frankfurt data centers, serving as a great opportunity to see how the company has seen obstacles as opportunity, and as a result found success.
Download your copy of the eBook today, and learn about the value of colocation – as well as the value of Frankfurt.