Boasting the second largest population in the world, and the fifth largest global economy, India's digital innovation and data center development are progressing at breakneck speed.
This is largely due to the unwavering support from the Indian government, which, in April 2022, officially classified data centers as 'infrastructure', making it easier for the industry to raise funds through loans and investments.
"There are a lot of government incentives on the table. In many instances, incentives provided on taxation are excellent," says Amol Samant, project manager at Black & Veatch.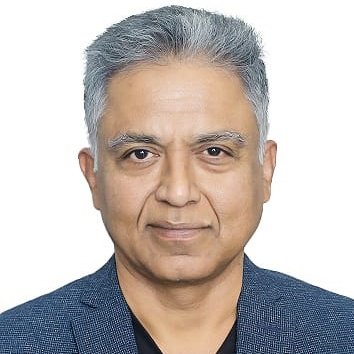 "Maharashtra, for example, has exempted data center businesses from GST (Goods and Services Tax) for 10 years, and many other states are declaring tax incentives for this industry."
These incentives are working in concert with 'Digital India' – a flagship program from the Indian government aiming to transform the country into a 'digitally empowered society and knowledge economy'.
Thanks to this initiative, many Indian businesses and welfare programs operated by the government, are now digitized – for example e-health and e-education. This is contributing to a large and growing need for reliable data center services and data handling at a local level.
Enterprise adoption of cloud-based services, big data analytics, and Internet of Things (IoT) services to support Digital India initiatives are also driving additional demand for data center services such as colocation and managed cloud services among enterprises, which in turn, is encouraging and accelerating the demand for data center investments within India.
In addition to government incentives and initiatives, there is another fundamental reason the Indian data center industry is growing at such rapid speed.
"The cost of maintaining and operating a data center in India over a 10 to 15 year lifecycle is much lower than it would be in the United States (US) or Europe. This is why US and European operators are seeing the opportunity as a lucrative investment," says Samant.
Samant proposes that global data center players who may be facing financial challenges in other aspects of their business could find greater return from investments in India.
A need for speed
Data center developments today have more moving parts than ever before and as construction schedules continue to shrink, the ability to deliver a project on time and within budget is no easy feat.
"Three or four years back, delivering data center projects on time and within budget was a concern. There were, and still are, heavy penalties when projects are delayed. Many in the industry were questioning how to deliver such mega projects within these short, fixed timeframes," says Samant.
"When we entered into the field and looked at the work that needed to be executed, we realized that, for us, delivering data centers on time and within budget was achievable. In India, with the large number of engineering, procurement and construction (EPC) contractors available, the basic construction of the data center can be completed at the desired speed."
As well as a pool of engineers at its disposal, Black & Veatch has partners who are ready to ensure the timeline is not an issue.
"We combine in-depth experience managing the permitting process and understanding of authority having jurisdictions (AHJs) for critical infrastructures, and collaborate with vendors aligned with us on expected timelines. Together, this approach ensures that data center projects can be successfully delivered within the stipulated time of around 15 months," says Samant.
"Industry partners, including diesel generator, Uninterruptible Power Supply (UPS) and busbars manufacturers and many other OEMs are excited that the data center business in India is growing rapidly and they want to participate. I've seen manufacturing schedules altered to accommodate a data center project, because data centers are the highest priority for the industry partners."
Speed and sustainability
Adhering to tight timelines is only one piece of the puzzle and the ability to construct data centers quickly is no longer enough. Clients now expect sustainability, from design through the finished product. With deep experience across multiple industries, Black & Veatch is equipped with both the means and knowledge to balance speed and sustainability.
"Data center providers trade on the reliability of their services; this is the bottom line of the data center facilities Black & Veatch designs and builds. In terms of sustainability, we help our clients focus on how sustainable design and systems can improve efficiencies and reduce costs," says Samant.
He adds that this would include the sourcing of cheaper fuel and integrating more effective storage and back-up systems to reduce long-term cost and the development's risk portfolio, which can also have an impact on the cost of capital for clients. Also included are closed loop systems and more effective and efficient water cooling to reduce operational cost and understanding a project's risk profile through environmental impact assessments.
When it comes to these projects, industry expertise cannot be understated. In addition to a large pool of skilled engineers in India, Black & Veatch brings together experts with backgrounds spanning all areas of digital infrastructure – including highly experienced data center professionals – to deliver its clients a high quality, sustainable data center, at speed.
In terms of sustainable construction, embedded carbon is one of the most prevalent environmental concerns. To tackle this issue, Black & Veatch practices a collaborative approach early on in the process, with both its supply chain partners and customers.
"At Black & Veatch, we are engineering solution providers, not manufacturers, but at the same time, we must ensure that material or equipment used aligns with sustainability requirements. From day one, we engage with our manufacturing partners and discuss with them possible sustainable solutions.
"We have all the expertise to go green, and monitor the embedded carbon through the manufacturing, transportation and construction phases. That said, the cost of reducing this carbon footprint ultimately has to be incurred by the customer, therefore we first have to educate our clients so they can factor this into their projects," says Samant.
Samant believes that this educational element surrounding sustainability is a crucial, industry-wide responsibility, with industry leaders and global governments having a large part to play.
"Companies like Facebook and Google are coming to India with their mega projects and taking measures to lower their carbon footprints. They want to be less dependent on diesel generators, to start using windmills and solar plants, but these initiatives shouldn't be unique to these technology giants.
"Governments all over the globe are not yet defining any laws or modus operandi for the data center industry as a whole to reduce its carbon footprint, which is very surprising. Governments need to be looking at the power requirements of the industry, which until the hunger for data center development is satisfied, will only continue to grow."
The United Nations Intergovernmental Panel on Climate Change anticipates that India will suffer more frequent and intense extreme weather events in the coming decades. Site selection and climate-related disaster scenarios are becoming increasingly important planning tools for data center providers who want to be both sustainable and resilient in the face of climate impact and extreme weather events.
With data centers consuming large amounts of energy and water, it is essential that developers consider various decarbonization pathways that reduce operational risks, operational costs and improve efficiencies. Possible decarbonization options include switching to renewable energy, deploying hybrid renewable energy systems to balance variable power generation with high uptime and integrating adaptive cooling systems.
"The data center industry in India has matured, and that maturity needs the support of quality, sustainable solutions and an organization that can provide such solutions at speed. Leveraging on its expertise across critical infrastructure sectors, Black & Veatch satisfies all three requirements for our clients."
Realizing data center ambitions through innovation
Black & Veatch uses digital twin technology, a highly specialized virtual modeling, to refine the entire data center development lifecycle, beginning with site due diligence and moving into design, construction, then measuring sustainability objectives and creating tools for operational excellence.
Digital twin technology eliminates geographical barriers in initial System Design Document (SDD) and design phases by enabling the Black & Veatch team and its clients to virtually walk through the "completed" project without leaving their desks.
Additionally, the digital twin allows for multiple depth and breadth of exploration by facilitating the review of a project in a virtual world before implementing it with more expensive investments and allowing developers to sell the project earlier.
The digital twin can also support operations of the data center, where monitoring is done remotely and the operations team can review issues from any location and make impactful decisions.
Digital twin technology supports modelling of different materials and how they impact design and construction decisions before they are made. It facilitates pre-testing of sustainable power and water options and proposes ideas to minimize waste. The technology also supports on-site construction to better optimize fuel and equipment usage.
Right on time
It's safe to say that Black & Veatch entered the data center market in India at a time the industry needed exactly what it has to offer.
As demand for data center development in the region continues to snowball, Black & Veatch is gearing up for the future. With over 700 professionals in the country already, in addition to 1,000 more professionals located across the globe, the company continues to expand its core data center team.
And although the race is truly on to secure a place in the Indian data center market, this has to be accomplished in a way we can sustain, not only for the data centers of today, but for tomorrow too. No one company can save the world, but when collaboration and ability to innovate is combined with capability, we are all the more likely to achieve our mutual goals.
More from Black & Veatch
Company partners with Black & Veatch and EIP's TGK

Two companies aiming to develop renewable energy projects and data centers in SK targeting hyperscalers

The campus could entail 13 buildings and is expected to be finished in 2036