Power consumption has been a source of anxiety for every high energy-consuming industry for a long time now. But with the current energy crisis in full swing, that anxiety is starting to creep up into a panic.
For Kohler, which focuses on backup power, the pressure is very suddenly on.
"Data centers are a large consumer of power, and mission-critical power, or the backup power, really is a very small element of the actual consumption of a data center," explained managing director Richard Russett in a DCD>Talk.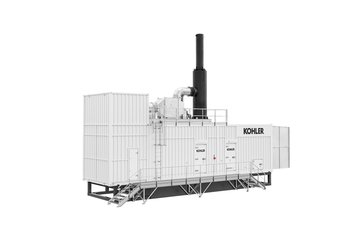 "In fact, everybody wants to see our equipment never run. The idea is that it's there to never be used. But in the whole design of a data center, obviously, you want to look for the best available technologies that are out there."
The fact is that while backup power is ideally never-run power, this year alone we have already seen grid failures due to extreme weather conditions, and this winter in Europe we are anticipating more due to the lack of energy resources (thanks, Russia. Not that we are placing any kind of blame here).
So, while the industry as a whole has been looking to make steps towards greener energy and thus greener backup power sources, there has been a sudden rush to make sure that the backup is going to be reliable, and thus, we may see the industry fall back on its usual diesel crutch.
"The current situation is putting more focus on the fact that it is about managing risk. There is now a much higher probability of having a disruption in the utility than there's historically ever been.
"Obviously, data centers are built with high redundancy and high reliability, and the backup power is an essential part of that. But I think there is probably a belief that there's actually a need to call on some of this equipment as we're going forward. So it's more important than ever to actually make sure that that equipment is robust and confident.
"People talk about the death of the combustion engine and batteries, hydrogen, all of the different technologies available instead. There are some good technologies, and in the future together, there will be things that come along, but realistically, if you look at the technologies that are available today, that are both technically robust, and also commercially viable, the combustion engine is still actually the best option out there in terms of mission-critical power."
We are seeing this play out already. Just last month, AWS bought 105 backup diesel generators capable of 674MW of power for their planned Dublin data center. Sadly, it seems that reliability is, at least temporarily, taking precedence over sustainability.
But not only is it down to the sustainability/reliability debate. The fact is that in some ways, the alternatives still aren't practical enough. This being said, some options are more realistic than others.
"The space is just not available for some of these things. The infrastructure that's required to run things, or with hydrogen, the ability to produce hydrogen in a renewable, clean way, the technology is just not there yet in terms of wide-scale adoption and viability.
"What we're doing now with the product range allows us to take the next steps in terms of improving the product. For example, being able to run on renewable fuels. Our entire range now is fully HVO compatible, which allows our customers to buy fuel that can reduce emissions from the backup power by 90 percent.
"If you say that backup power is probably less than one percent of the emissions that come out of a data center anyway, and then you reduce that by 90 percent, we are starting to get to a place that's actually quite reasonable in terms of where we've got to with usable technology."
Find out more about the current state of the backup power industry in the DCD>Talk with Richard Russett here