Excool was delighted to welcome The Princess Royal on a visit where she not only presented the company with The Queen's Award for International Trade, but opened the Excool Zero Factory before enjoying a tour of the facility.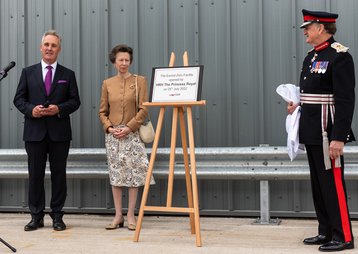 Receiving this award is a great honor for Excool as it reflects the hard work and dedication from the entire team since 2010.
CEO, Duncan Williams has demonstrated continual forward thinking to ensure the most efficient data center cooling is manufactured. This has been achieved through dedicated Research and Development, one of the cornerstones of Excool culture, with hours often spent in the lab.
During the visit, the factory team did a fantastic job clearly explaining how the Excool Zero units are manufactured, starting with refrigeration to the electrical, mechanical, casework and finally quality control.
Once the factory tour was complete The Princess Royal handed The Queens Award to Mark Collins, honorary Excool chairman before going on to reveal the plaque for the Excool Zero factory facility.
Excool international export has been a key business objective in the past five years with a landmark opening of the office in South Carolina, USA last year. Excool units can now be found globally and further expansion is at the center of the business for the foreseeable future.
More from Excool
Data centers are prodigious users of water, but attempts to reduce on-site water usage often just shifts water usage upstream to power generation, argues Excool's Jon Pettitt

Fossil fuels still dominate, and water use will be important as the grid shifts to greener energy

Demand for Excool's energy efficient, water efficient data center cooling products has heated up since the release of the Excool Zero