The combination of over 100 years' experience in the industry, coupled with a first-class engineering capability, has allowed the company to expand the critical power offering to meet client requirements on a global scale; from switchboards to switchgear, power management systems, modular critical power solutions, high power busbar and, most recently, to data hall busway power distribution.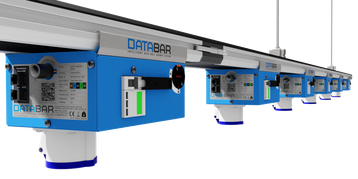 Back in 2016, Anord Mardix saw a gap in the market to provide customers with a unique open channel busway solution with a new design concept, providing customers with a better, safer and faster experience than its competitors.
Charles Mann, DATABAR Sales Director EMEA/ APAC, explains "The company already had the experience and capabilities to deliver a product that could overcome the challenges around open-channel busway deployments. The result was DATABAR - a high-end distribution solution, providing safety, reliability and modularity in the market, which has ultimately grown from strength to strength."
Since the product's launch, Anord Mardix has seen rapid expansion in the data centre market and has secured clients around the world – most recently in Africa, the Middle East and Asia and Pacific regions.
DATABAR adapting to market change
Busways are fast becoming "an integral part of power distribution inside the data hall," according to Charles, because they provide customers with a more flexible way of managing power distribution above the rack.
Ultimately, busways free-up valuable space where power cables would often congest areas and prevent air flow movement under the raised floors. Clients have reportedly also seen benefits in the actual speed of deployment which can often be critical to a white space delivery requirement.
The DATABAR range boasts two key patented features that sit in the busway and tap-off respectively. This combination brings safety and modularity to the forefront of open channel technology, giving clients the opportunity to manage their data hall power distribution requirements.
Mann explains, "The busway system is not a new concept. But the DATABAR open channel system has revolutionised operational delivery, with the ability to provide a safe environment to manage tap-off deployment"
Whilst open channel busway is becoming the more broadly accepted method of power distribution in data halls, closed channel systems and cable are still widely used – in most cases it is ultimately down to customer preference.
Charles explains, "The initial cost of deploying cabling may be cheaper than busway. However, with ongoing deployments and maintenance, together with its reduced flexibility, the overall cost to a project in using power cable distribution may be ultimately greater.
If you're looking at future-proofing a data hall in terms of deployment, project cost and scalability, then the DATABAR becomes the obvious choice for data centres and is part of the reason it has seen major success worldwide."
The Devil's in the detail
But what is it specifically about the DATABAR that compliments the market so well?
The first patented design feature resides in the actual busway and uses a unique coupling system that is integral to the individual busway sections.
Mainstream busway manufacturers typically provide 'joint packs' which include connectors, couplers and screws to fix each section together – installers must ensure that the busway sections are exact to ensure a safe connection. Mann explains, "You've got to torque the bolts together, at the right level, around two parts. Alignment has got to be perfect." As a result, a typical busway system can add days to installation.
The key component of DATABAR's patented design is the beryllium-copper spring couplers, attached to the 'female' end of each busway section. The component exhibits shape-memory properties and great conductivity to provide a highly reliable joint connection, for very high-load currents. As a result, aligning busway sections is much simpler, making for a seamless install, whilst ensuring a reliable busway connection and reducing install time overall.
Anord Mardix claims that its patented DATABAR busway connection system can save up to 80 percent in installation time because of its unique coupling ability that crucially does not require any 'joint packs'. It also renders the annual maintenance requirement on busbar joints redundant.
Safety first: The second patented feature
Another common issue when installing open-channel busways is ensuring that safety levels are met when plugging the tap-off units (that take power from the busway to the servers) on the rack.
Different manufacturers have different approaches, of course, and there are various instructions, regulations and site requirements that engineers are required to follow. These instructions include exhortations not to plug the tap-off units under load and to ensure that circuit breakers are in the off position.
Nevertheless, a well-designed busway can also reduce the risks posed to personnel from, for example, an arc flash or electric shock due to the physical force often required to connect the tap-off unit to the busway.
The design of Anord Mardix's DATABAR tap-off boxes ensures that they cannot be installed in an incorrect rotation or installed/ removed on-load. "The breakers can only be switched on when the tap-off box is correctly installed and grounded on the busway, and the connections have been successfully engaged through separate key operation," explains Andy Banks, Data Centre Sales Manager (Modular Solutions) for Anord Mardix, in the company's whitepaper 'Busway: Safety and Reliability'.
To add the cherry on top, the Anord Mardix DATABAR system and tap-off units are compliant with IEC 61439-6, independently arc-flash tested to the IEC/TR 61641 standard and seismically tested to IEEE 344-2103.
The rigorous inhouse testing that Anord Mardix conducts for the DATABAR product is testament to their 'engineering excellence' ethos and it has clearly paid off. In a short space of time, the DATABAR solution is fast becoming the product of choice for data hall busway power distribution, providing a dynamic, space-saving solution reaching all four corners of the globe – with no signs of stopping.
As a testament to this success, Anord Mardix welcomes their newest member of the team based over in Singapore, Bruce Moore. With well documented success in developing and nurturing C level relationships within the industry, the new Regional Sales Director in APAC will become integral to Anord Mardix's future growth across Asia Pacific. Moore will be fundamental in facilitating the operational introduction of DATABAR (as well as the Anord Mardix offering) to a more diverse market than ever before.
This marks yet another huge investment from the business to push the brand outside its already impressive range of clientele and project scope. Anord Mardix will not only continue to provide engineering excellence to new and existing clients, but reinforce that they are a front-runner within the critical power industry.
Click here for more information about Anord Mardix's DATABAR busway system.
Click here to read more about Anord Mardix's newest member of the team, Bruce Moore.
More...
Anord Mardix CEO James Peacock tells DCD about the company's expansion plans, the virtual factory testing facilities it has set-up, and why people development is so important

Training isn't just about 'doing the job', but giving engineers the confidence to do any job well. But when Covid struck, Anord Mardix needed to shake-up its on-the-job based training

Anord Mardix's first low-voltage switchboard in the US offered a dual UL/IEC listing. Its latest, though, is aimed squarely at the UL 891 market