The Nordics are the generally agreed king of sustainability when it comes to the data center industry.
The region has an abundance of renewable energy sources, and the countries within it achieve almost utopia scores in quality of life and civil liberties.
It is no shock then that Stefan Nilsson, CCO of Swedish colocation provider Conapto, thinks the Nordics have the upper hand when it comes to sustainability reporting regulations.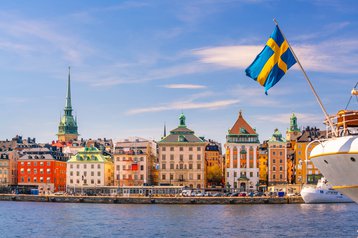 Regulations across the globe are regularly updated, but the data center industry in Europe has been hit particularly hard of late.
"The European Union is driving a really harsh agenda when it comes to the reporting side of things. Last year they launched a new taxonomy for financial reporting. This year, they're launching the corporate sustainability reporting directive, and the Energy Efficiency Directive is under rework," explained Nilsson.
Along with these new reporting regulations comes the potential that other standards will need reworking in order to meet requirements, for example, the ISO standards. While this increases the size of the challenge, Nilsson remains mostly optimistic.
"To be honest, I think we're sometimes overcomplicating things," Nilsson confessed. "We're in quite a nice situation as an industry, and we've done a lot of things, from a sustainability perspective."
For most companies, the anxiety around new reporting will lie in Scope 3 emissions. Despite being the most indirect emissions generated by a company, and the hardest to control, Conapto has been reporting on its Scope 3 emissions since 2019 and is well versed in keeping them minimal.
So is it really as complicated as many make it out to be?
"Obviously, when it comes to Scope 3, we still lack a lot of data to be able to really calculate the bits and pieces of Scope 3 alignment," conceded Nilsson, "But on the other hand, there are international standards for how you can convert a diesel generator or a big chiller into a Co2 emission partner – there are standards for doing that, and companies are there to help you with that.
"Your [Scope 3] calculation will probably not be 100 percent correct. But it might be 95 percent correct, and that might be good enough because that's better than zero. The more people and the more companies that are starting to do this, to calculate and to report on their standards, will mean that more tools will develop."
While Nilsson generally argues that the reporting process is simpler than we think, he does identify one key issue that we could find ourselves facing in the years to come: the regionality of regulations.
"What worries me a little bit is that the EU is setting its standards, and there's a set of rules and regulations with regards to how we should report, and then the US is setting its own requirements, even different states in the US are setting their own governance, and then APAC and other areas will do it differently again," said Nilsson.
This wouldn't be an issue if we lived in the pre-globalization era, but we don't. Companies do not construct (necessarily) in only one state or country, nor do companies always store data in the same country as the business operations.
Increasing sustainability reporting guidelines is a very noble pursuit. It keeps us honest, and shame can be an incredibly powerful motivator, but if these regulations are not aligned we instead risk disincentivizing companies by making the task too huge to overcome.
Take a look at how Conapto approaches sustainability reporting by watching the full DCD>Talk