A data center development is being planned outside Toledo in northern Ohio.
The Blade reports plans are being made to locate a data center on hundreds of acres in Middleton Township, just west of I-75 and near the intersection of State Rt. 582 and State Rt. 25.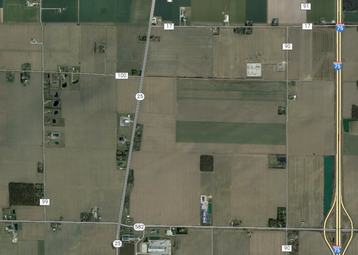 Details around the campus, developer, or end-user are unclear at this point.
Middleton Township is located in northern Ohio close to the Michigan border, just south of Toledo in Wood County.
Though the details are reportedly still being finalized, the Blade notes earlier this year township officials approved an amendment that allows "Data Storage" as an approved use in industrially-zoned parts of the township.
The township's trustees have approved the rezoning of 402 acres of land from agricultural to light industrial use, follow the rezoning of 279 acres late last year.
Township leaders declined to comment to the publication.
Brian McMahon, owner of commercial real estate firm Danberry National Ltd., who represents several sellers in the area and has recently listed a combined 235 commercially zoned acres for sale just south of Middleton Pike, said he could not comment due to a nondisclosure agreement.
Northwestern Water & Sewer's district president Jerry Greiner said the agency has a general idea that the project will have "substantial" water and sewer requirements but doesn't know the full details.
"We've kind of been on the fringe of it, and are aware there are talks underway," he said.
The main demand for water will likely be related to the cooling of servers and potential fire suppression requirements for such a facility, he added.