Blockchain firm AboutBit is to build a 115MW cryptomine data center in Merom, Indiana.
The company this week announced plans to bring a facility adjacent to the Merom Generating Station in Sullivan County online in the next 30 days.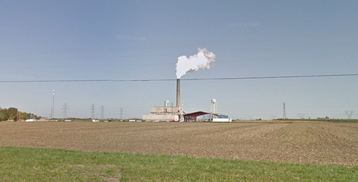 "We believe there is tremendous potential for rural areas and advanced technology infrastructure such as data storage, cryptocurrency and cybersecurity facilities," said WIN Energy CEO Tom Nowaskie. "This is an example of that potential, and we look forward to exploring similar opportunities in the future. We also appreciate the continued positive collaboration and engagement with Sullivan County and community leaders."
Through a five-year agreement, AboutBit will purchase 115MW of electricity from WIN Energy to power the facility, which the company said will use a liquid cooling system.
"It's hard to spin up and spin down power plants," said AboutBit founder and CEO Stacy Griggs. "If demand in the region hits a peak, we'll actually be able to reduce our power requirements from WIN Energy and scale back our use at the mining facility, ultimately benefiting other customers in Southwest Indiana."
"The low cost of power will be a very attractive incentive for miners looking for a base of operations," Griggs added. "We'll be able to provide the power wholesale to miners from both the US and around the world, along with the physical space and infrastructure to accommodate their hardware demands."
WIN Energy is an electric distribution cooperative with its wholesale power purchased from Hoosier Energy located in Bloomington, Indiana.
"This project continues our commitment to facilitate economic development opportunities near Merom," said Hoosier Energy President & CEO Donna Walker. "I'm proud of our team's diligence in seeing the agreement through, benefiting both WIN Energy and all of our members."
AboutBit is a Louisville, Kentucky-based firm that develops containerized mining data centers equipped with Starlink terminals. The company is reportedly investing in brick-and-mortar mining facilities in the Midwest and Western United States, but hasn't provided details.
Built in 1982, the 1080MW Merom coal plant is currently owned by Hoosier Energy. However, in February, the company announced plans to sell the plant to Terre Haute-based Hallador Power Co. LLC in a deal is expected to close in July.
In other cryptomining news:
In its latest quarterly results, Iris Energy said it had agreed to a 600MW connection agreement with AEP Texas at the company's Childress site in Texas, and commissioned the first 9MW at its Mackenzie site in British Columbia, Canada.
Chinese firm The9 Limited has acquired a 31.5MW cryptomine data center in Kyrgyzstan through its wholly-owned subsidiary NBTC Limited and Kyrgyzstan enterprise SolarCoin LLC.