Amazon claims that it ahead of schedule on its plan to power its data center and retail operations with 100 percent renewable energy.
Last year, the company said that it was targeting 2030 to run fully on renewable power, but now it says that it is "on a path" to reach that goal by 2025.
Earlier this year, Amazon fired employees that had protested its inaction on climate change. In 2019, shareholders voted down employee-led proposals to implement more agressive plans, while CEO Jeff Bezos remained off-stage.
A good step, but with caveats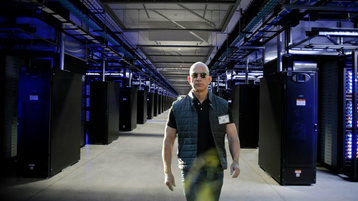 Amazon says that it has 91 renewable energy projects live or in development, totaling 2,900MW of capacity and delivering more than 7.6 millionMWh of renewable energy annually.
But with sales increasing, Amazon said it was responsible for 15 percent more carbon dioxide emissions in 2019 than the year before - releasing 51 million metric tons of CO2 across its myriad business arms. It plans to be carbon neutral by 2040.
The company, currently worth $1.3 trillion, also announced a for-profit 'Climate Pledge Fund' to invest in businesses that develop sustainable technologies and services. The venture fund will start with $2bn in funding, and comes after Bezos - the world's richest human - promised to spend $10bn of his own money on climate projects.
"The Climate Pledge Fund will look to invest in the visionary entrepreneurs and innovators who are building products and services to help companies reduce their carbon impact and operate more sustainably," Bezos said.
"Companies from around the world of all sizes and stages will be considered, from pre-product startups to well-established enterprises. Each prospective investment will be judged on its potential to accelerate the path to zero carbon and help protect the planet for future generations."
The fund aims to invest in industries including transportation and logistics, energy generation, storage and utilization, manufacturing and materials, circular economy, and food and agriculture. In the future, Amazon may allow other corporations that have signed The Climate Pledge (a commitment to reach the Paris Agreement ten years early and be net-zero carbon by 2040) to be involved in the fund.
The company's cloud division, the world's largest, lags behind rivals Microsoft and Google on renewable commitments. Like the other major cloud providers, Amazon Web Services also courts fossil fuel companies, helping develop tools to increase the extraction of oil, gas, and coal.