Amazon Web Services has launched the general availability of AWS Ground Station, its service connecting the company's cloud to satellites.
The service is available from two ground stations in Ohio and Oregon, with plans to build 12 around the world, in a joint partnership with defense contractor Lockheed Martin.
Ground control to Major Jeff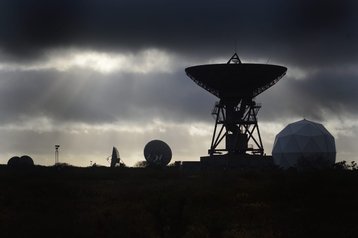 Customers pay for antenna access time on demand, which Amazon claims can save users up to 80 percent of their ground station costs. The AWS ground stations are located near to the company's data centers, so data can be processed in Amazon Elastic Compute Cloud (Amazon EC2) instances, and stored on the cloud service.
"Satellite data offers customers a profound way to build applications that help humans explore space and improve life on Earth, but the cost and difficulty of building and maintaining the infrastructure necessary to downlink and process the data has historically been prohibitive for all but the most well-funded organizations," Shayn Hawthorne, general manager of AWS Ground Station, said.
"The goal of AWS Ground Station is to make space communications ubiquitous and to make ground stations simple and easy to use, so that more organizations can derive insights from satellite data to help improve life on Earth and embark on deeper exploration and discovery in space."
Amazon also works with satellite operator Iridium Communications, to offer its Iridium CloudConnect IoT connectivity platform, and separately has ambitious plans to launch a 3,236 satellite-strong constellation to serve Internet from Low Earth Orbit.
Outside of Amazon, the company's CEO and founder, Jeff Bezos, is the owner of Blue Origin, a rocket company that last year won a $500 million defense contract to help send US Air Force payloads into orbit. Just this month, Bezos unveiled hardware designed to land on the Moon.