Amazon will invest up to $4 billion in generative AI startup Anthropic, and will become its primary cloud provider.
The cloud and e-commerce giant will initially invest $1.25bn for a minority stake in the company, with an option to increase its investment later.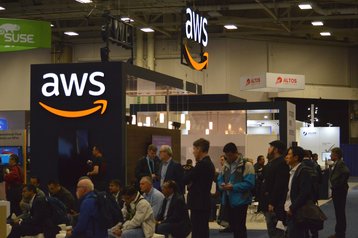 Anthropic was founded by OpenAI's former vice president of research, Dario Amodei, and a number of former OpenAI staffers.
Late last year, Google quietly invested $300 million into the company and gained it as a cloud customer - but it has long been a vocal user of Amazon Web Services (AWS).
With the new investment, Anthropic will use AWS as the primary cloud provider for mission-critical workloads, including safety research and future foundation model development. Anthropic will also use Amazon's custom Trainium and Inferentia chips to train and deploy its foundation models (referred to as 'Frontier models' by the company).
The two companies will also collaborate in the development of future Trainium and Inferentia chips.
Finally, Anthropic has committed to providing long-term access to its future foundation models via Amazon Bedrock, AWS's fully managed service for foundation models. While Bedrock already has Anthropic's Claude model, it will now also feature early access to unique features for model customization and fine-tuning capabilities.
"We are excited to use AWS's Trainium chips to develop future foundation models," Anthropic's Amodei said.
"Since announcing our support of Amazon Bedrock in April, Claude has seen significant organic adoption from AWS customers. By significantly expanding our partnership, we can unlock new possibilities for organizations of all sizes, as they deploy Anthropic's safe, state-of-the-art AI systems together with AWS's leading cloud technology."
Andy Jassy, Amazon CEO, added: "We have tremendous respect for Anthropic's team and foundation models, and believe we can help improve many customer experiences, short and long-term, through our deeper collaboration.
"Customers are quite excited about Amazon Bedrock, AWS's new managed service that enables companies to use various foundation models to build generative AI applications on top of, as well as AWS Trainium, AWS's AI training chip, and our collaboration with Anthropic should help customers get even more value from these two capabilities."