Australian Edge data center firm Leading Edge Data Centres has opened a new facility in Albury, New South Wales.
Founded in 2018, Leading Edge is deploying Edge facilities across Australia, starting in New South Wales (NSW). The company uses prefabricated data center modules from Schneider Electric that can be quickly erected and used.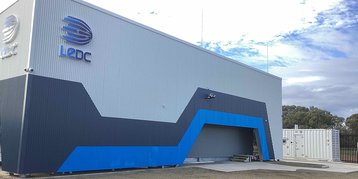 "Albury Wodonga, We're Open for Business!" the company said on LinkedIn this week. "Today we celebrated the Grand Opening of the Albury Wodonga Leading Edge Data Centre. We hosted over 60 people who got to tour the brand new facility which will improve connectivity for the entire Riverina Region."
According to the company's website, the new ABX1 facility offers 750kW of capacity across 580 sqm (6,250 sq ft) and is built to Tier III quality. Though it doesn't list the address, the company has previously filed for planning permission to develop a facility at the Airport Industrial Estate in Albury City.
"We are thrilled to launch the Albury-Wodonga data center, providing more choice for local consumers and businesses when it comes to high-speed internet and direct cloud connectivity," said Leading Edge DC CEO Chris Thorpe. "It's more important than ever before for our metropolitan and regional communities to be digitally connected with equivalent capabilities."
LEDC has partnered with Schneider Electric to use its prefabricated modules, with the company investing around AU$7 million (US$4.8m) into the facility.
"The opening of this new data center in the Riverina region will provide the digital infrastructure needed for Australians for generations to come," said Schneider Electric vice president of segments and secure power Joe Craparotta. "Schneider's Tier III certified Edge data centers have been designed and constructed in line with Chris Thorpe and [Leading Edge DC's] vision. They are built for Australian conditions, designed for regional locations with both sustainability and greater direct cloud access as a priority."
Leading Edge has data centers in Tamworth, Newcastle, Albury, and Dubbo. The company plans 10 more in NSW before moving into Victoria and then to Queensland and the Gold Coast. It previously secured AUS$20m in 2020 from Australian investment firm Washington H Soul Pattinson and AU$35 million from DigitalBridge.
The company was granted approval for a data center in Wagga Wagga in January 2022. It is also looking to build in Bathurst, Coffs Harbour, Parkes, Newcastle Airport, Gosford, Orange, Wollongong, Port Macquarie, and Nowra. Coffs Harbour and Wagga Wagga are reportedly currently under construction.