AWS and recycled hardware provider ITRenew have joined a group of vendors led by Edge specialist Vapor IO to deliver Edge services in Las Vegas.
The group, which also includes VMware, will host Edge applications for local organizations wanting to deliver services such as smart retail, in a new commercial program called "Inzone". It will run on the AWS Outposts on-premises cloud offering, on bare metal hardware provided by ITRenew, a company that refurbishes second-user hyperscale racks and servers. It will also use Vapor's previously announced Kinetic Edge as "understructure".
This article updated to clarify Vapor's Inzone, Kinetic Grid, Kinetic Edge and aother related programs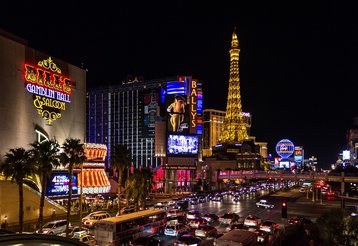 In-crowd in the Inzone?
"Before Inzone, enterprise customers had to assemble the entire end-to-end supply chain to compose solutions on their own (or maybe with a system integrator)," said Vapor's CMO Matt Trifiro in an email to DCD. "Inzone pre-integrates end-to-end enterprise solutions into combined offerings. These are complete solutions which emerge from complex partnerships we put together that customers would otherwise need to assemble themselves. These partnerships include fiber owners (e.g., for site connectivity), cloud and compute owners (e.g., AWS and ITRenew), telcos (e.g., for licensed spectrum), industrial automation suppliers, software providers, and so on."
The Vegas Inzone will cover the Las Vegas Strip and nearby industrial areas in Clark County, Nevada. It will host applications and services for manufacturers, retailers, hospitals, hotels, convention centers, casinos, telecom service providers, and other nearby businesses, as well as for local governmental entities and schools. It uses Vapor's Kinetic Grid architecture to put neutral-host infrastructure in small Edge facilities near high-density industrial and retail zones.
Vapor says it plans to roll out Inzones in the same 36 target US cities where Vapor has been building out its Kinetic Edge, since January 2020. Inzone uses the Kinetic Edge - currently available in six cities - as a platform. adding VMware's Telco Cloud Platform, AWS Outposts, and ITRenew as partners.
A second Inzone is in the pipeline, according to Trifiro: "This will most likely target retail use cases to start- Inzone Las Vegas is targeting private 5G and analytics use cases to start."
Cole Crawford, founder and CEO of Vapor IO said: "It all comes down to delivering infrastructure within microseconds of the target facilities, then enabling that infrastructure with last mile networks combined with the intelligence of software APIs and real-time telemetry. We call this unique combination of technologies Inzone because it enables Industry 4.0 application within a physical geography without requiring on-premises data centers."
Crawford says an Inzone can host latency-sensitive applications which "are housed off-premises but behave as if they are on-premises," because Vapor chooses locations carefully and has low-latency fiber routes courtesy of a previously announced deal with Zayo.
Previously Vapor has helped set up the Open Grid Alliance, a group with the ambitious goals of "rebuilding the Internet" for Edge applications, and delivering what is sometimes called "industry 4.0."
"The Open Grid Alliance is a non-profit organization that we co-founded, but do not control," clarified Trifiro. "It is led by a five-person board and has 30 member companies." He likened Vapor's role in the OGA to Red Hat's relationship to the Linux Foundation.