Network services provider Cloudflare is rolling out cloud services in 36 US cities using the Kinetic Edge platform from Vapor IO.
The partnership will run Cloudflare's services for performance and security in Edge data centers deployed by Vapor IO, enabling lower latency and higher bandwidth. At the same time, Vapor IO has announced $90 million of funding to support the build-out.
Edge pioneer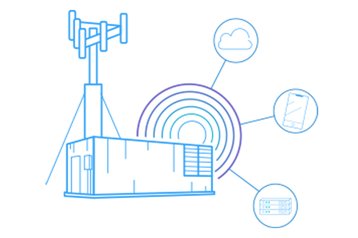 "Cloudflare is a true edge pioneer," said Cole Crawford, founder and CEO of Vapor IO. "By offering Cloudflare's performance and security services through Vapor IO's Kinetic Edge platform, we will collectively unleash a new generation of applications that demand ultra-low latency and high bandwidth capabilities at the edge of the network."
The two will deploy network services such as Cloudflare Workers - an API supporting serverless applications - on Vapor's Kinetic Edge platform.
Kinetic Edge is already live in Chicago, Atlanta, Pittsburgh, and Dallas, and the company is building out an additional 16 cities in 2020, followed by a further 36 in 2021. Vapor is planning to install in more than one site in some cities, leading to a total of 100 Kinetic Edge data centers by the end of 2021.
The alphabetical list of 36 US cities is as follows: Austin, Atlanta, Boston, Charlotte, Chicago, Columbus, Dallas, Denver, Houston, Indianapolis, Las Vegas, Los Angeles, Miami, Nashville, Pittsburgh, Phoenix, San Antonio, San Francisco, Seattle, and Washington D.C.
Vapor IO has further funding from Berkshire Partners, and Crown Castle, both of whom gave it Series C funding in 2018. The new investment takes Vapor's Series C funding to $90 million.
In October 2019, Vapor IO launched Kinetic Edge Exchange, a software system for managing Edge resources, and announced a deal to deploy it in Digital Realty data centers. Previously, Vapor had delivered some Edge locations and announced a plan for a 5G-ready edge cloud, with network firm Packet, - which has since been acquired by Digital's rival Equinix.
"Our mission is to help build a better Internet," said Nitin Rao, head of global infrastructure at Cloudflare. "By partnering with Vapor IO, we're able to deliver the benefits of our edge computing platform, Cloudflare Workers, to a wide array of new locations."