Brazilian subsea cable company Blue Marine Telecom is to connect more than a dozen oil rigs off the coast of Rio with a subsea fiber cable.
This week Blue Marine announced the Bold Maverick ship had arrived in Rio De Janeiro from China. The vessel will be used by Blue Marine Telecom to implement the main trunk of the Santos Basin Submarine Optical Network.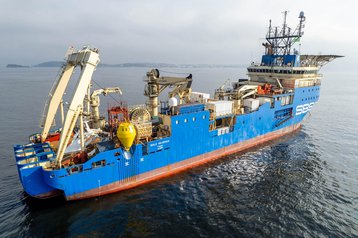 First announced last month, the network will interconnect 13 offshore oil and gas production units operating in the pre-salt region of the Campos Basin, which in turn will be connected to a main trunk that will land at cable landing stations (CLS) in Rio de Janeiro and Santos, São Paulo.
The main trunk will run 442 km, with 12 Branching Units (BU) and three Passive Branching Units (PBU). The project includes a scope for 11 more platforms to be connected in the future.
The contract, which is expected to be completed by mid-2025, also includes the construction of a CLS in Anchieta, Espírito Santo, and the expansion of another one in Barra do Furado, in the municipality of Quissamã in Rio.
"With the winning of yet another major contract, of strategic importance, Blue Marine consolidates itself in the Brazilian market as a highly specialized company capable of carrying out the largest projects in this segment," said CEO Rodrigo Magarotto.
Blue Marine Telecom is part of the Zmax Blueship Group, the only Brazilian group with navigation logistics integrated with advanced engineering solutions aimed especially at the sector of implantation and maintenance of underwater optical and electrical systems.
Blue Marine will be working with Blue Amazon, which specializes in offshore projects and is also part of the Zmax Blueship Group. Founded in 2008, Zmax's other units include waste transportation company Blue Bay, port provider Blue Terminals, and shipping firm BR8.
The Campos Basin is an oil field off the coast of Rio. It has a total area of about 115,000 square kilometers (44,000 sq mi), including a 500km (190 sq mi) onshore part.
Blue Marine is undergoing a similar project in the Santos Basin; a 1,200km cable will connect 13 oil rigs to two CLS located in Praia Grande, São Paulo and Praia da Macumba, Rio de Janeiro. The project is due for completion in December 2023.