Chindata has launched a set of full-stack modular products for hyperscale data center builders, ranging from integrated power systems to prefabricated buildings.
The four products, launched at the Data Center New Technology Development Forum during the 2023 China Computing Conference on August 18 in Yinchuan City, China, are aimed at meeting increased demands from large data center builders during what Chindata calls the Artificial Intelligence Generated Content (AIGC) era. They have been developed with partners.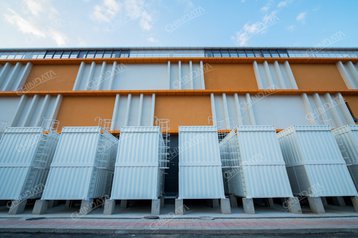 The modular X-PrePower 3.0 system integrates power supply and distribution, with simplified pathways and an efficiency of 98.5 percent. Chindata says it saves 20 percent of the floor space used by non-modular systems and cuts delivery time from two months to one week.
For cooling, the X-Cooling Maglev two-phase cooling system uses magnetic levitation (maglev) for oil-free compressors, and also employs evaporative condensation, thin fanwalls, and other technology, and is controllable by AI. All this can support air cooling for power density up to 35kW per rack, Chindata says.
The use of phase-change heat transfer and cold plates solves the problems of centralized cold water systems, increases reliability, and reduces complexity, the company claims. The system can achieve an annual Cooling Load Factor(CLF) of 0.08 in North China and 0.15 in Malaysia.
Chindata's large-scale fully prefabricated data centers combine domestic factory prefabrication and on-site steel structure construction overseas, to reduce the construction timeline of cross-border projects. For instance, a project under construction in Malaysia using modular design and assembly reduced its timeline to eight months, including foundation building, comprehensive testing, delivery, and installation.
The company's Kunpeng all-in-one IDC operations management platform combines operations, management, monitoring, and control, with a standardized approach.
"In the AIGC-era, our comprehensive full-stack solutions provide a new technical framework and evolution route for data centers in the era of LLM (Large Language Model)," said Chindata CTO Binghua Zhang. "In the future, Chindata will continue to embrace the industry ecosystem, collaborate sincerely with industry partners, engage in joint innovation, to drive the continuous implementation of cutting-edge data center technologies, provide more classic cases for the industry's rapid iteration and build a better future."
Much of the technology included in these packaged modular systems will be from partners. At last year's China Computing Conference, Chindata announced "the world's first waterless cooling system", which turned out to be an existing Vertiv Liebert DSE product. This year's announcement includes maglev bearings for cooling pumps - a technology which Vertiv launched in 2020, based on oil-free compressors from Geoclima.
More in Construction & Site Selection