Comcast is teaming up with Edge platform provider Vapor IO to allow third-party Edge services on its network.
The test uses Vapor's Kinetic Edge platform to allow Edge providers to offer services like managed CCTV systems and local private 5G networks, while running their applications close to end users, for lower latency and quicker response times. The pilot is based on Vapor's Kinetic Edge platform.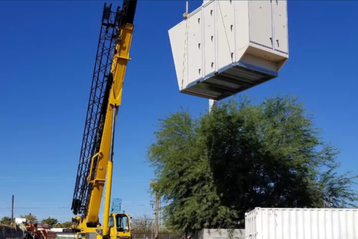 The companies will kick off initial projects in Chicago and Atlanta, with the goal of "demonstrating product readiness and identifying opportunities" for scaling nationwide, and are targeting Q3 2023 for the pilot roll-outs.
"Our combined solution unlocks the economics of Edge computing," said Cole Crawford, founder and CEO of Vapor IO. "Integrating Vapor IO's Kinetic Grid with Comcast's nationwide 10G network gives third parties the ability to run Edge applications cost-effectively, at scale, and with better performance."
Vapor launched its Kinetic Grid Edge platform in the US in June 2021, with a partnership with network provider Zayo. It was subsequently rolled into 32 US markets, and is now available in 36.
The platform makes use of VMware's Telco Cloud platform to provide a multi-cloud grid. The system prioritizes applications that need low latency and adapts to local infrastructure failures.
The Kinetic Edge is proposed for applications such as retail, the Internet of Things, VR, and smart transport. The service launched in Europe in January 2023, emphasizing that localized data can also satisfy "data sovereignty" requirements, where some states demand that their citizens' data be kept within their borders.
The Comcast pilot will make use of Comcast's own network resources, adding the Vapor platform, to support applications in local areas, said Elad Nafshi, chief network officer, Comcast: "Our extensive network facilities are located in close proximity to businesses across the country and that presents an exciting opportunity to work with Vapor IO, specifically in Chicago and Atlanta, to enable new Edge services that take advantage of the low latency and high bandwidth capabilities of our network."