An internal whistleblower in the Danish Defense Intelligence Service has revealed how the agency partnered with the US NSA to conduct domestic surveillance.
Speaking to Danish public broadcaster DR, multiple sources who read the whistleblower's reports claimed that Forsvarets Efterretningstjeneste (FE) engaged in possible illegal surveillance along with the NSA, tapping submarine cable landing stations and fiber optic cables - as well as building a data center to store all the data.
The whistleblower claimed that the NSA used the data to further US interests, sometimes to the detriment of the Danish state.
I am shocked, shocked to find that spying is going on in here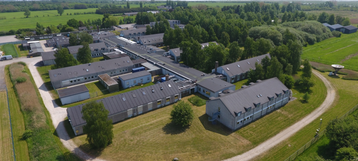 Exactly when the surveillance began is unclear, with the whistleblower's reports detailing incidents between 2014 and 2016.
To store all the data, Denmark - with US assistance - built a data center at the military base Sandagergård, on the island of Amager. The NSA had full access to the data center.
Sources told DR that the whistleblower's reports document how the NSA used the spy program Xkeyscore to spy on Danish targets, as well as those found in Denmark's closest neighbors.
XKeyscore, previously detailed by whistleblower Edward Snowden, is an NSA data-retrieval system allowing the agency to continually search for keywords and targets.
As part of its searches, NSA hunted for data on Danish defense contractor Terma. It also used its access to search for communications related to Eurofighter GmbH and Saab, who were pitching their Typhoon and Gripen fighter planes for the Danish F-16 replacement program. Ultimately, the US-made Lockheed Martin F-35 Lightning II stealth fighter won the contract.
Denmark's national audit agency, the Rigsrevisionen, previously researched the $3.1bn contract decision. At the time, it found no sign of undue influence, but found serious shortcomings in the decision-making process.
The whistleblower's reports stated that the targeted searches against the defense contractors, Danish social institutions, and neighbor countries like France, Germany, the Netherlands, Norway, and Sweden were "against Danish interests and goals."
DR was not able to ascertain if FE officials acted on the reports.
The news comes as the agency comes under increased scrutiny in Denmark. This August, The Intelligence Services Authority took the unprecedented step of issuing a press release criticizing the FE.
This was due to FE's collaboration with the NSA - although it was not publicly known at the time that the collaboration went against Danish interests. The whistleblower's report also featured in the Danish Intelligence Service's (TET) investigation of FE, which this summer found that the agency kept information hidden from TET, and sometimes outright lied.
Some FE employees were laid off as a result of the investigation, but no determination was made as to illegality.