Singapore's SK Enmove has signed up with Dell and immersion cooling expert GRC to provide cooling fluids.
The lubrication company is moving into immersion cooling and will provide dielectric coolants to fill GRC's tubs, which will hold Dell kit, and be supplied and supported by the server maker.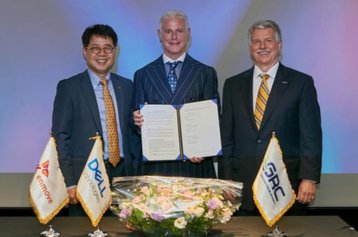 SK Enmove CEO Park Sang-kyu said the company wants to be a leader in thermal management and promote server efficiency, providing a global supply chain for the fluids needed in the immersion cooling market.
As server energy demands increase and power densities rise in data centers, it has been widely acknowledged that liquid cooling must take over from air cooling, which cannot operate efficiently at high power density. The shift to liquid cooling is expected to reduce the energy that would be required for cooling in new data centers - but air-cooling has a massive installed space and liquid cooling is seen as a costly change in established practice.
SK, Dell, and GRC's agreement, signed at the Dell Tech Forum in Coex, Gangnam-gu, Seoul, is intended to ease the transition by ensuring that sufficient quantities of coolant are available for GRC's tubs, which immerse electronics completely in large amounts of fluid. Along with Park, the agreement was signed by Dell's APAC president Peter Marrs and GRC CEO Peter Poulin.
The three companies plan to develop liquid cooling technology for a larger market, and establish an after-sale service market, ensuring the technology is reliable - and readily available in key demand regions.
SK Enmove will develop specialized cooling fluids based on its high-quality lube base oil, while Dell and GRC will produce server designs and tubs designed for immersion cooling.
Last year, SK Enmove invested $25 million in GRC and the company has since joined GRC's ElectroSave Fluid Partner Program, which certifies alternative fluids for GRC's immersion tanks. Other partners include ENEOS and Shell.
SK Enmove also plans to expand its activity in energy storage systems (ESS) and thermal management solutions for electric vehicle batteries, aiming to become a comprehensive provider of thermal management solutions.